How world champion triathlete Holly Lawrence and her team used IMU Step to guide her return to running journey
Over the past 20 years, Dean Golich has been a pioneer in the application of exercise physiology, power training and altitude training to improve the athletic performance of national, world and Olympic champions. Dean also has vast experience working in the NHL with the Toronto Maple Leafs and Edmonton Oilers, in NASCAR, in the NBA with the Brooklyn Nets, and in cycling and triathlon.
Midway through 2018, Dean started working with 2016 Ironman 70.3 World Champion Holly Lawrence. He began coaching Holly after she suffered an injury racing at the Oceanside Ironman in Southern California and underwent corrective surgery. Six months later, Holly is back to racing, finishing first in her comeback race and winning her first race of 2019 in Dubai. Throughout the rehab process, Dean turned to IMeasureU to help guide Holly back to peak performance.
"Holly had a navicular fracture and I started working with her right before she had the surgery", said Dean. "Just in case anyone doesn't know, the navicular is in the foot and it plays an important role in maintaining the medial longitudinal arch of the foot. And because of the extent of the fracture, a screw had to be used to repair it."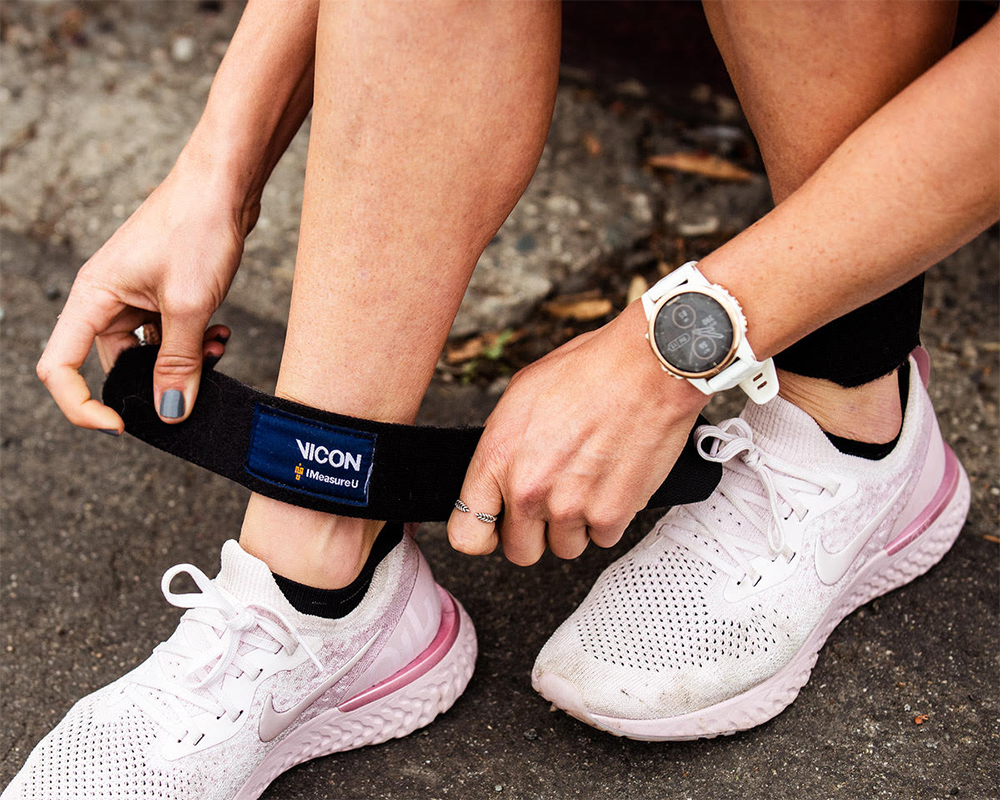 "With the data from IMU Step we were able to take Holly through a data driven rehabilitation process which led her to successfully recover from her navicular fracture and go on to win her first race back and also her first race of 2019 in Dubai"
-Dean Golich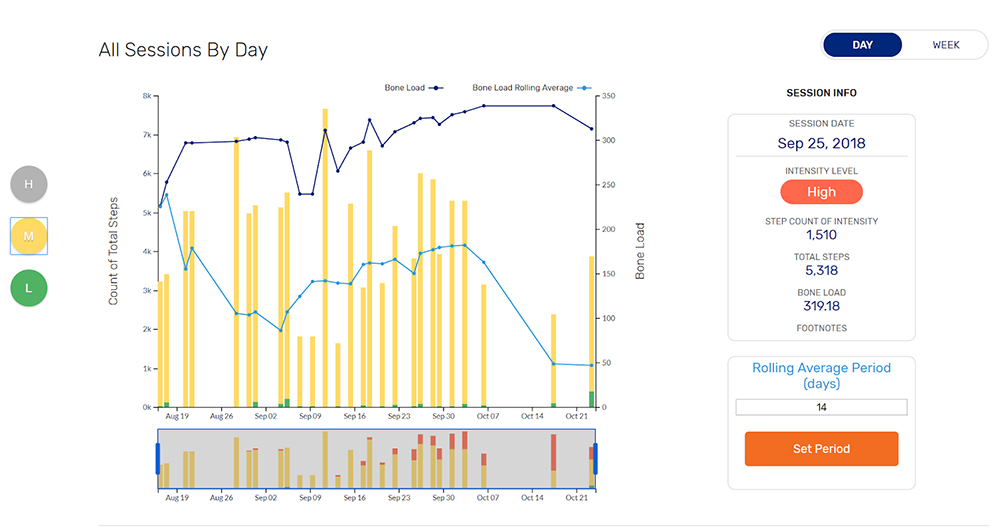 Ensuring that the injured bone was healing correctly was Dean's first priority. To monitor and profile this adaptation, he utilized IMU Step's Cumulative Bone Load metric during Holly's running sessions in the AlterG anti-gravity treadmill.
"The first profile we wanted to take a look at using IMU Step was right away when she was ready for the AlterG. As you can see on her profile here, the difference between the left and right in terms of Cumulative Bone Load is pretty obvious with the right being the injured leg and the left being the healthy leg. Looking at these asymmetries using IMU Step proved incredibly insightful right from the start of Holly's rehab process".
"When athletes first get back on the AlterG, it is common practice to use their body weight to estimate how much load the athlete is going to be exposed to. This is then used to create a return to play protocol." Dean continues. "But that load is never actually measured, and without IMeasureU, we wouldn't have been able to measure it either."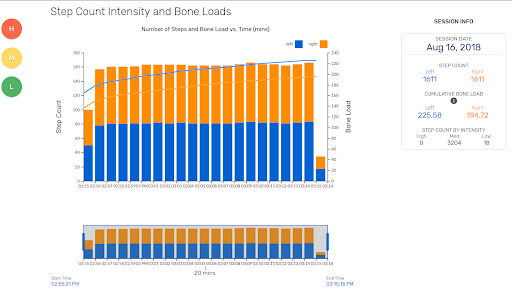 Having reliable data during this rehabilitation process allowed Dean to construct an informed plan and safely progress Holly's volume and intensity over time.
"As we know from measuring the load on an AlterG, they always overestimate the support which is provided to the athlete and they always underestimate the speed contribution to the overall load. This is something to remember, the speed is what has the most impact and as soon as you increase the speed, tibial acceleration increases dramatically."
"We started with 3, 4 and 5 minute loading cycles multiple times per day at really slow speeds with a 50% reduction in body weight," Dean continues. "To get bone load stimulus we focused on the frequency of stimulus rather than concentrating on the volume. And as you can see in the next figure, the difference between the cumulative load on the left and right is very low and we are running faster, as demonstrated by the intensity score. These positive results were backed up by MRI scans which showed positive adaptation in the bone."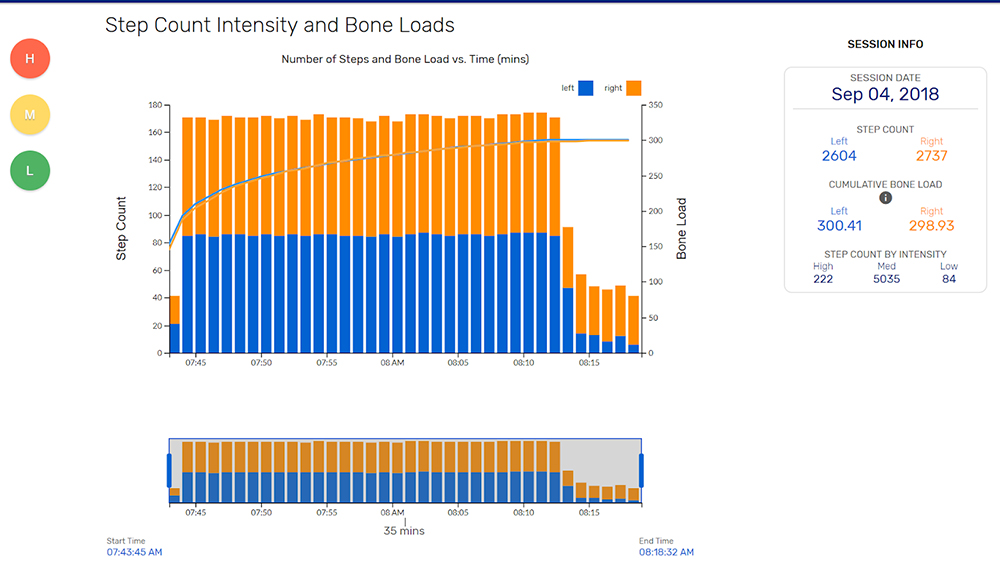 "As we moved through the rehabilitation process, we switched our focus from bone load to G load (intensity) and where that G came from. As you can see in the next figure, the impacts are still showing to be higher on the left compared to the right but we also found that ground contact times were pretty slow. However, one word of caution when looking at figures like this is that if you don't have baseline measures, which we didn't, its difficult to know what the 'norm' is," Dean said. "Although we didn't have any IMU case study data from Holly pre injury, we did have some other data which gave us an idea of where she was at."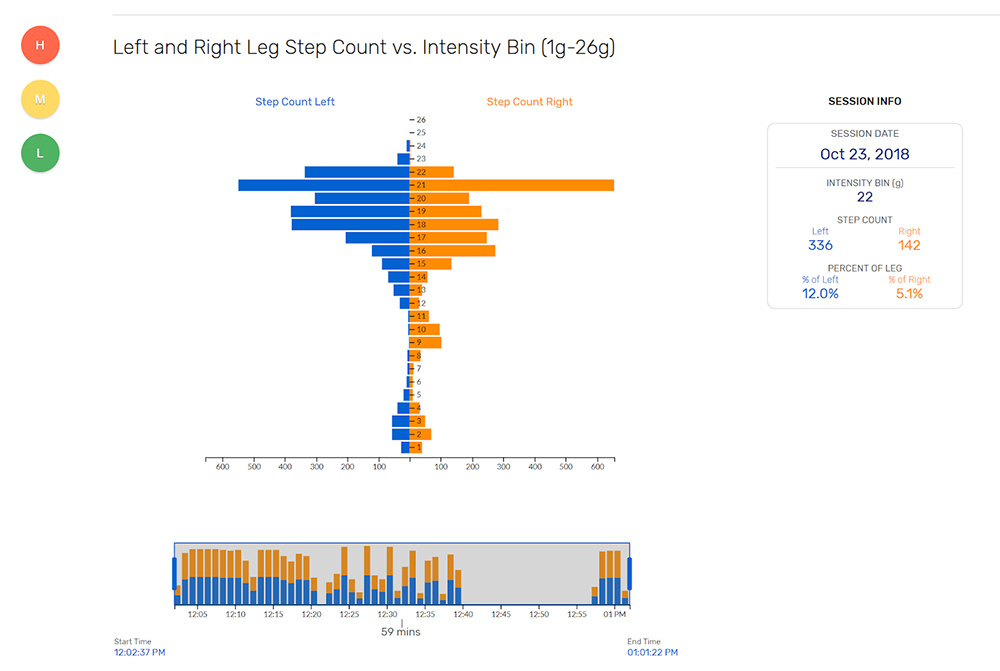 "As we progressed through rehab, we concluded that it was more of a muscle tendon and ligament adaptation that we needed to develop rather than bone as it was initially. We came to this conclusion due to bone load asymmetries equalizing and fitness markers normalizing, but more importantly injured leg ground contact time was staying the same, if not increasing compared to the non-injured leg. My thinking was that due to Holly being in a boot, when she transitioned out of it there would be an initial increase in stiffness but now that running was taking place at higher and higher loads, the elasticity was increasing. And it was this decrease in stiffness and increase in elasticity that led us to believe that it was the connective tissues which needed the adaptation."
IMU step allowed Dean to monitor and adjust the low, medium and high bouts of load which Holly was being exposed to. Tracking this intensity was one of Dean's main priorities as Holly progressed to running pain free.
"The increase in intensity is highlighted in the 2 figures below with a periodized increase and subsequent decrease in medium intensity volume (top) and a gradual increase in high intensity volume (bottom)."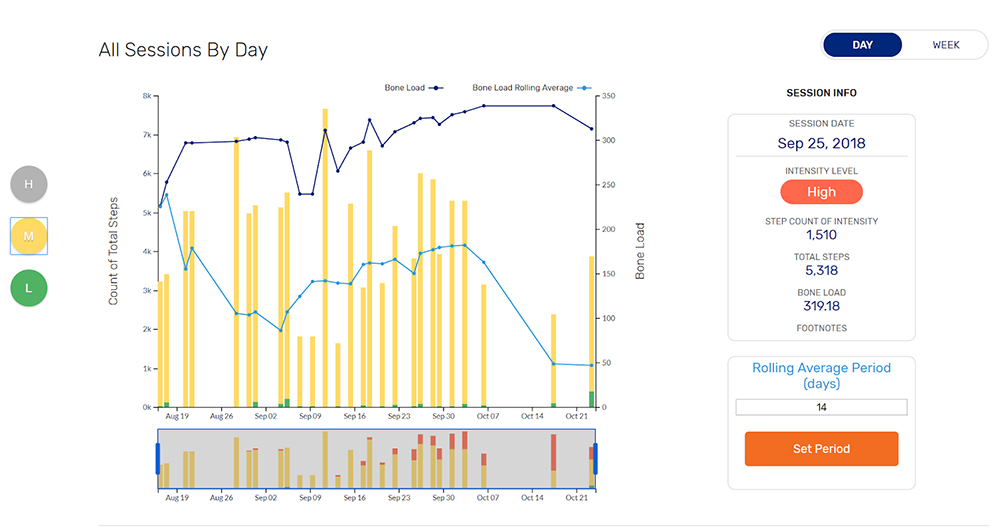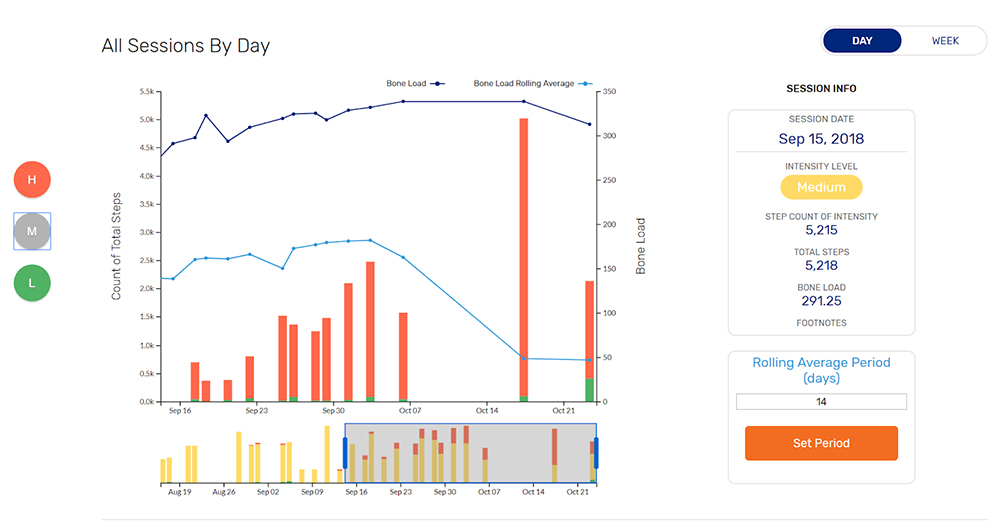 "Many of my protocols when it comes to bone load and ligament load have been heavily influenced by Keith Barr among others (1, 2, 3). If anyone is interested in this area, I would encourage them to watch a video below from the MIT Sloan conference 2 years ago where David Martin from the Philadelphia 76'ers discussed this in detail"