HOW IT WORKS
Working seamlessly with Vicon's Blue Trident sensors, Capture.U offers real-time data overlaid on video, allowing you to make informed decisions right where you need it – on the pitch, trackside, poolside, courtside or in the lab.
Capture.U allows biomechanists, researchers and users like coaches and sports teams to analyze their human movement by accessing real-time information, the app provides easy access to real-time information from your Blue Trident sensor.
MEASURE
Use IMU sensors to capture precise, high frequency, raw inertial data on multiple body parts live.
SYNC MULTIPLE SENSORS
Sync inertial sensors with the IMU mobile app. Seamlessly export CSV file to any analytics platform such as Excel, MATLAB, or Python for further analysis.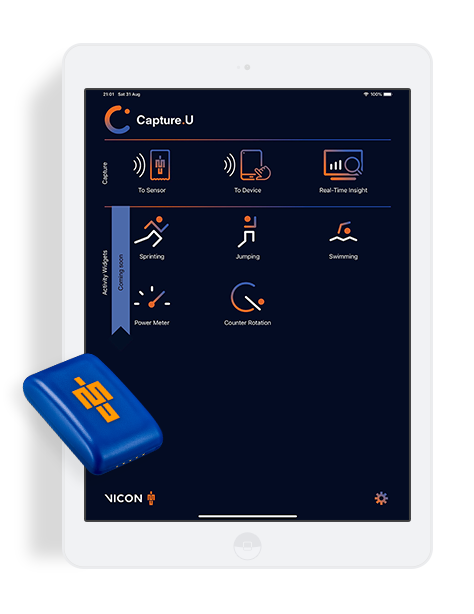 SYNC MOCAP DATA
Collect inertial and optical motion data simultaneously in a single application, using IMU and Vicon Nexus 2.7 data synchronization.
SAVE TIME
Compare data from both lab and external settings, out of the box, without the need for additional reporting, tracking and compilation apps.