A lot of the minor tweaks to IMU Step go unnoticed. Some may just boost user security and some may just be boosting download speeds. However, there are a number that launch with a BANG. These give customers a better user experience, allow them to collect deeper (and wider) data, and revolutionize how rehabilitation is monitored and managed.
This article is dedicated to the releases that made a BANG in 2020.
January – Impact Load
To kick the year off right we released a new flagship metric – Impact Load.
Impact Load is the sum of the intensities created from every impact measured at the lower limbs during an IMU Step session. Total Impact Load is the sum of the left and right limb Impact Loads
Impact Load is comparable within and between sessions, allowing you to examine the loading outcomes of specific activities, drills, sessions, and training days – and their respective effects on an athlete's workload.
Impact Load allows our customers to look at one number to signify the lower limb load for their subject and easily compare that load across any movements.
Click the links below to explore Impact load in-depth:
Getting Started with Impact Load
April – A Free Demo Dashboard
In April we released a free version of our dashboard that allowed you to explore example IMU Step data measured on sub-professional athletes in the real world by our very own IMeasureU team.
You can reference this example data to learn how lower limb loading might change when measured over a variety of different activities including a sub-maximal yoyo test, long distance running, 100m sprints, gym sessions, and more.
If you are new to IMU Step, this is a great way to become more familiar with the dashboard when you haven't built up the same amount of longitudinal data yet in your own IMU Step account.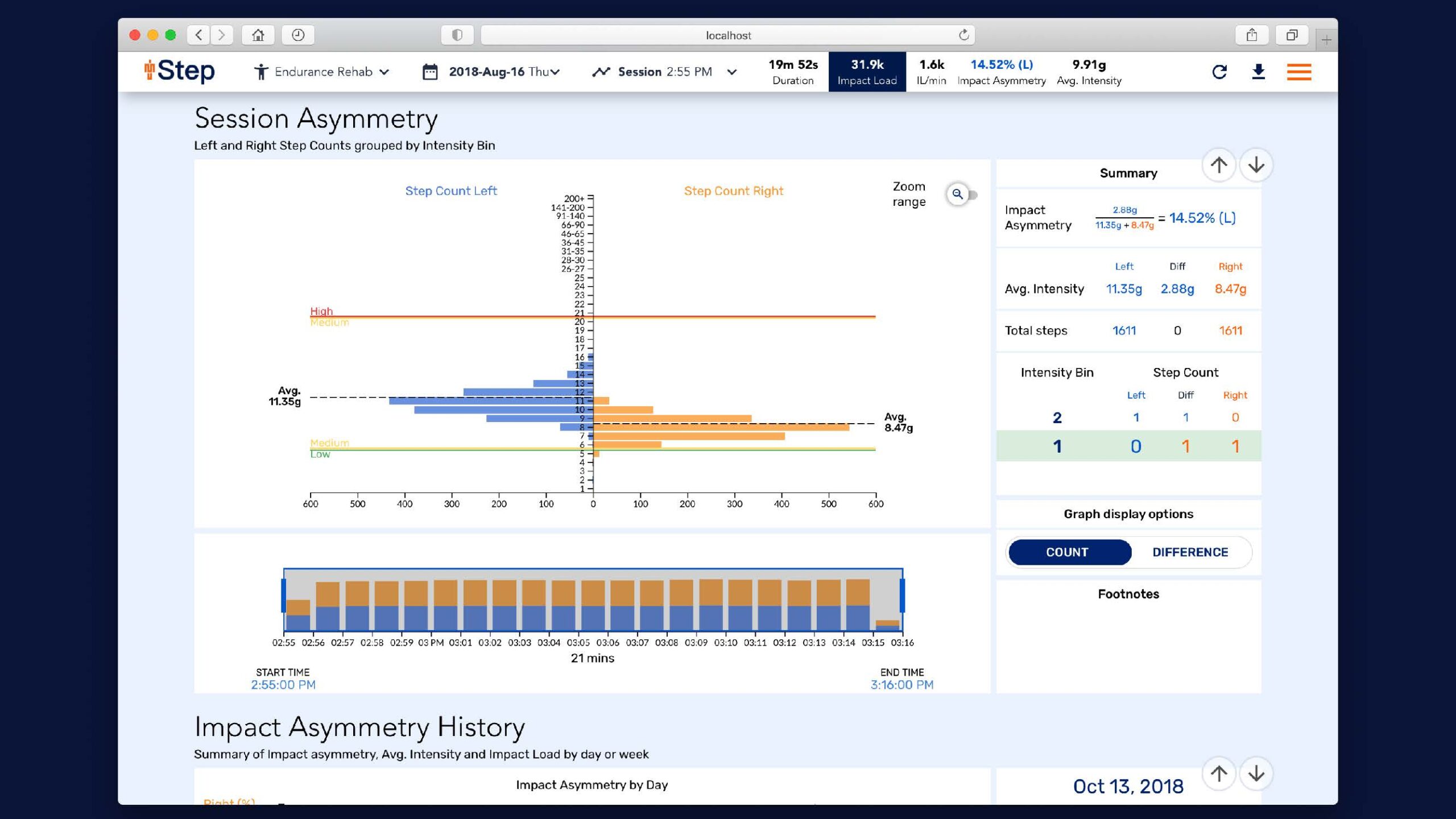 July – More Context than Ever
This release meant that you can now record up to 80 footnotes in a session, record a footnote video at the same time, plus you can see what your last session was like on your phone, to give you greater context on your upcoming session.
We also made IMU Step more robust and upgraded the sensor firmware, so you will need to update via IMU Step Desktop for Mac and Windows.
In summary, 1) A firmware upgrade to FW9. This puts sensors in line with Capture.U 1.2 and Nexus 2.10, so customers that are using both products no longer have to switch between firmware versions, 2) Large scale footnotes. In the past, users were limited to 8 footnotes per session when starting and stopping footnotes via iOS. This update allows users to record up to 80 footnotes, 3) You can see what the summary stats are ((IL, BS, Steps, %HI) for your previously uploaded session to give greater context for the upcoming session via iOS, 4) Record footnotes tagged with video in normal recordings via iOS, 5) Export footnotes from the Desktop app as a .csv file. This is a separate .csv file that contains timestamps for footnotes used during the session that match the raw IMU data export.
December – Impact Asymmetry
The festive season saw us announce the release of our latest metric to IMU Step, Impact Asymmetry.
During running based activities, both the left and right limbs experience a multitude of impacts of varying intensities.
Impact Asymmetry describes the between-limb difference in the average impact intensity measured at the lower limbs during an IMU Step session.
This metric, expressed as a percentage, is a relative numerical measure, describing how a person is loading one side of their body compared to the other, depending on the type of activity.
Impact Asymmetry is comparable over any time period, making it useful for:
Baselining athletes.
Tracking asymmetry longitudinally.
Return-to-play monitoring.
Identifying changes in movement quality.
To find out more about Impact Asymmetry and how you may be able to use it within your environment, click the links below.
3 Ways to Use Impact Asymmetry – an article by James Grant, ATC
Practical Examples of Using IMU-Step to Modify Outcomes: Asymmetry and Impact Load in the Real World – an IMU webinar with Andrew Gray
2021 – A Glimpse at What's to Come
At IMeasureU we have plenty more that we're working on for 2021. As a small teaser, we've been working on the ability to manage footnotes for many recordings at once via Group Footnotes.
This iOS update will contain a brand new screen where you can add, start, and stop a footnote on multiple recordings at the same time.
You can also end all your recordings at once if all the sensors are in range.
This iOS update will free up the amount of time you spend administering footnotes and managing sensors, allowing you to use that time more efficiently elsewhere.
That's all we're able to share at the moment, but keep an eye out for some big news later this year!