76ers analytics and sports science medicine.
The Philadelphia 76ers use a wide range of technology platforms to track their players' performances in games and practices.
Two weeks ago, the Sixers gave the rest of the sports world a glimpse of how they have evolved at a sports science summit, where experts presented new research and ideas to an audience of more than 100 sports science developers, researchers and practitioners, including sports science staffs from other professional teams such as the Eagles and the Colts — even the Celtics.
Dr. David Martin, the Sixers' performance and research director — the head sports scientist — coordinated the summit. His presentation served as the grand finale for the eight-hour think-fest, and it addressed the reason everyone was in the room: drafting, transitioning and developing athletes so they can compete, and so they can return to competition if they are injured.
"How do we get all of this right?" he asked the group. "Maybe you can use tech."
Then he pulled back the curtain on some of the Sixers' favorite gadgetry. Here are examples:
1. Shear Wave Ultrasound Elastography. It sounds a lot more complex than it is. A device such as this tests tendons for elasticity — crucial for a sport in which tendinitis is a fact of life
2. GymAware. This camera tells you exactly how efficiently Joel Embiid is lifting weights and how powerful he is getting. "You will have movement patterns," Martin explained. "You can gain some insight into the athlete's status in the gym that may transfer onto the court."
3. My Jump 2. An app that gauges explosiveness. The application's designer, Carlos Balsalobre, attended the summit. "We use his app to look at jumping power," Martin said. "You can take something like that into the field and let the athletes know we're still engaged."
4. Keemotion. It's an automated filming platform set up at the Sixers' practice facility. "In the old days, a fleet of interns would film everything, go home and decode it," Martin said. "Now, the cameras can pick up where the player is and follow the action. If practice starts at 3, the cameras start at 3 and off we go. That can be a very helpful adjunct. It can save you a lot of time."
5. IMeasureU tri-axial accelerometer. An orange sensor that wraps around the player's ankle to measure performance. "We may be very, very interested in how the foot interacts with the ground in a way that you can count the steps and also understand the magnitude — the severity — of the ground reaction forces," Martin said. "You can wrap these up and use them in the underwater treadmill. You can use them in the AlterG [anti-gravity rehab treadmill]. You can put them out on the court. How's the load going through that injured lower limb?"
Sixers owner Josh Harris talking to coach Brett Brown (right) during an April game.id is healthy and an All-Star. (Photo by Allen Kee / ESPN Images).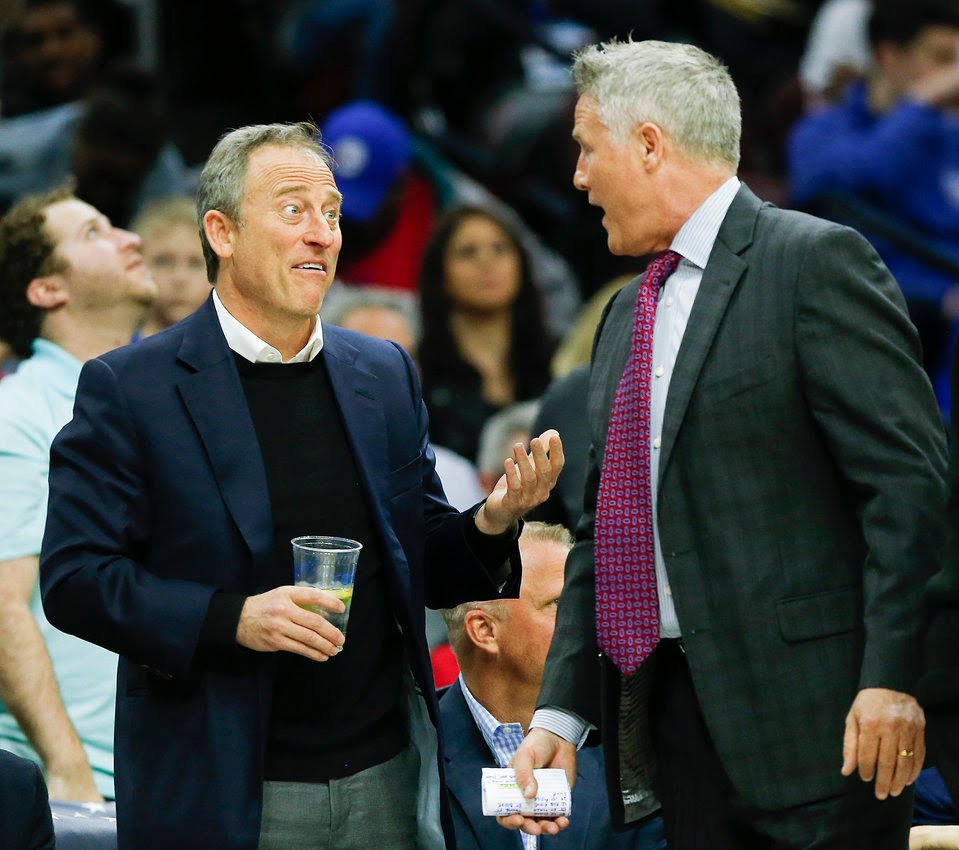 6. Second Spectrum. Installed in all NBA arenas, these cameras identify players' actions during games. As a sports science application, it can supply a baseline for players' normal effort and energy exertion so doctors know how much a rehabilitated player can be expected to do — in other words, it establishes a minutes-restriction guide. It also tells the sports scientists who runs how far, how fast and how often. You cannot dog it (Martin called it a "form slump."). "We are able to get the X/Y coordinates and the displacement over time for all of the athletes. The information on all the athletes in all of the games is becoming more and more readily available." Which means teams know whether prospective free agents or possible trade pieces play hard.
7. Kinexon. These little devices track your every move to help doctors know how much work you're doing, and are as common today as shoelaces. "We put this little chip in the back of their shorts, in a little pocket. As they move around on the court. we connect with the athlete to understand how the training load is comparing to the competition load. We can pull both sets of data and process them with similar algorithms to allow the data to line up and look at day-to-day changes in competition and training."
8. RSPCT. A shot-tracking device at the practice facility that not only records shot accuracy from every spot — but also records everything about every shot. "Trying to shoot a basketball and get it in the basket is really important to basketball players. Quantifying that is usually problematic. It's usually an intern looking at a video. RSPCT group has been able, with cameras that are using computer-vision techniques, to look at depth cameras and normal cameras and follow a ball's trajectory; they follow its trajectory, they calibrate it off the circle of the rim, and if the ball goes in, they know if the ball hits the center of the rim. You don't just get the discreet variable of 'in' or 'out.' What you get is a continuum of how tightly you're clustering your shot. You can also get the arc of the shot. The RSPCT guys have written their code to work with the Kinexon guys so when they shoot, we know where the shot went in, and can follow it back, and who should get credit for the shot. One thousand, two-hundred sixty-one shots plus arc plus position plus clustering." Soon, Martin said, the data will include each shot's spin rate and spin axis.
9. NEX Team Homecourt. An app created by former Apple employees that is, essentially, RSPCT-lite, Martin said. So yes, they can track Simmons' and Markelle Fultz's workouts. "It's summer. Our athletes are all over the place. We might want to catch up with them and see them in a shooting drill to see how the shooting's going this summer," Martin said. "People are working on different aspects of their shot. It uses artificial intelligence. You put your phone up on a tripod at a 45-degree angle. It tells you where the shots are coming from, and it tells you whether you're making them or not. You get really nice shot counts of all the locations of where you were. It turns out Steve Jobs hired pretty smart people."
10. Beyond Sports. A virtual reality system the Sixers are thinking about incorporating into their everyday development or rehab protocols. If they can accurately replicate the NBA experience beyond the 2K-style video game, they might, say, keep rookies from choking in the clutch. "Virtual reality can have a real place for how the injured athlete keeps his mind alive, or how the person who's not playing in the NBA can experience the NBA," Martin said. "What if you could suck all this data into a platform where you could create a virtual reality? Well, that's not new to the guys we're working with. They've been playing NBA 2K17 since they were 6. You hang out with Joel Embiid, watch him play 2K17 — I find it so ironic; he plays himself. I ask, 'Why don't you play someone else?' and he says, 'Because I'm the best.' Beyond Sports is trying to allow the movement patterns to help us with spatial awareness. To help us with high-pressure situations and decision-making."