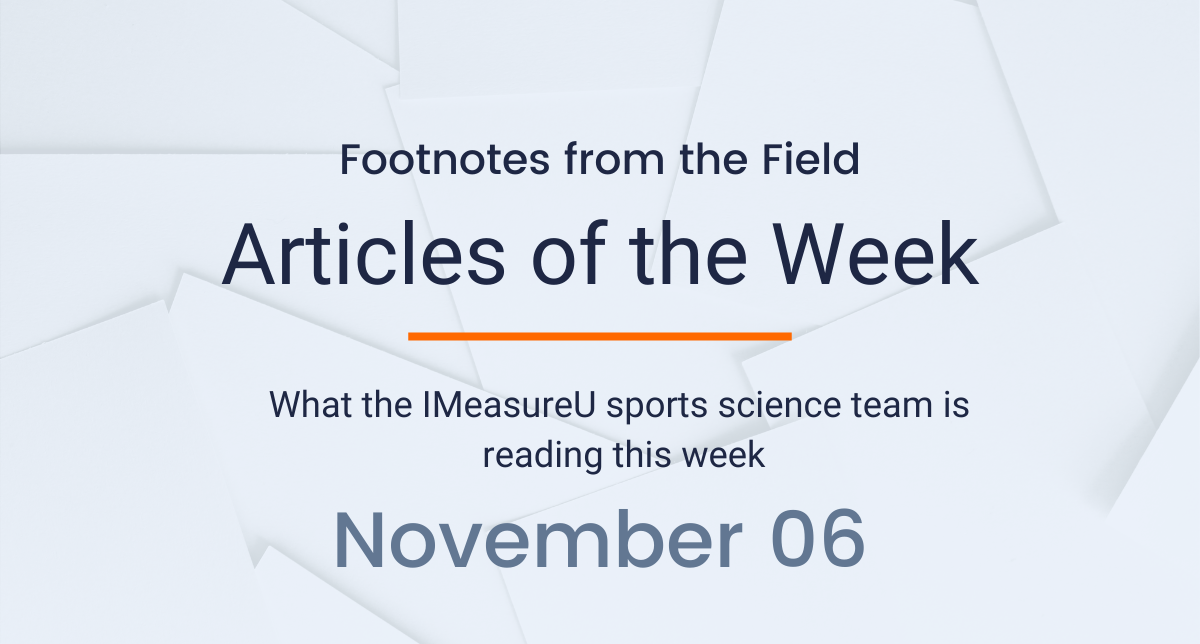 Here's what the sports science team at IMeasureU is reading this week:
The first item this week is from Caleb Johnson and colleagues from the Spaulding National Running Center in the American Journal of Sports Medicine. The purpose of this article was to compare ground reaction force variables between healthy and injured runners as a group and within specific common injuries. They concluded that impact variables (vertical average and instantaneous load rates and vertical stiffness at initial loading) were significantly higher when assessing the injured group as a whole. However, these findings were driven by specific injury groups, highlighting the importance of taking an injury-specific approach to biomechanical risk factors for running injury.
The second article in this week's list comes from Mark Robinson and colleagues in the BMJ Open Sport and Exercise Medicine Journal. This study investigated training-related injuries and injury risk factors among British Army infantry recruits. They concluded that there was a high incidence of overuse injuries in British Army recruits undertaking infantry training. Recruits with lower pretraining fitness levels, low body mass and past injuries were at higher risk. They also recommended that faster 2.4 km run time performance and minimal body mass standards should be considered for physical entry criteria.
The final article comes from Kenton Kaufman and colleagues from the Mayo Clinic in the American Journal of Preventative Medicine. The aim of this article was to review the literature on injury rate, types of injury and location and risk factors for military populations. They also make suggestions for injury surveillance and prevention. The authors suggest that overuse and other training injuries could be decreased with proper interventions. Although not in the aims of the research, they highlighted work by Hagy Biomechanics who found that the wearing military boots doubled the impact forces vs running shoes. 
For more sports science check out our blog for in-depth case studies and industry updates. Also, be sure to sign up for our newsletter below so you are always up to date with the latest research.