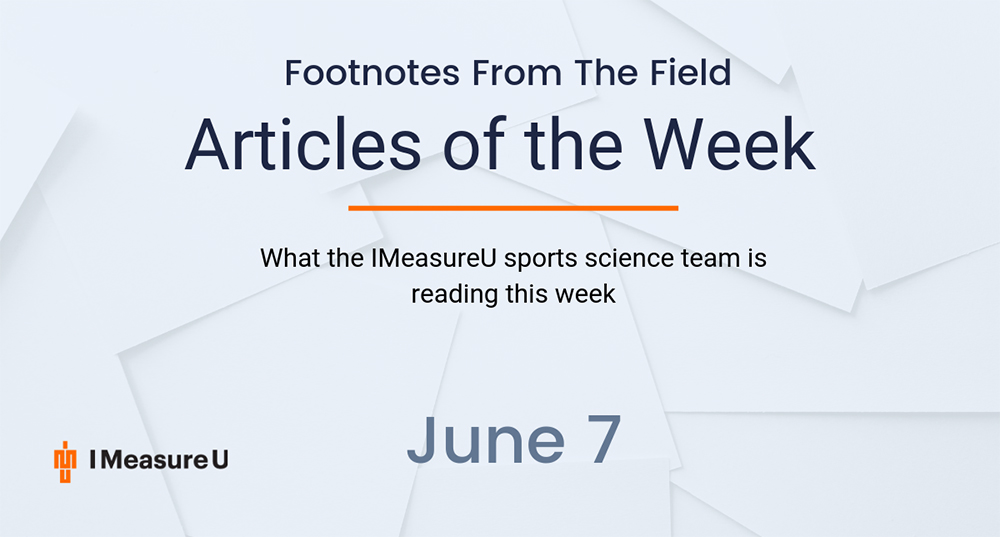 Here's what the sports science team at IMeasureU is reading this week:
In our second articles of the week update, we are featuring 5 research articles, the first one coming from David Carey and colleagues. David recently presented a summary of this paper at the World Congress on Science and Football in Melbourne and it aims to critically evaluate the modeling and evaluation methodologies found in the existing literature on the relationships between training load and injury. This is a hot topic at the minute and is definitely worth a read.
The second research article, by Karsten Hollander in the American Journal of Sports Medicine, investigates the effects of habituation to barefoot locomotion on running biomechanics. Previous studies have shown that acutely changing from trainers to barefoot running induces changes to running biomechanics, but do these effects still exist after a short period of barefoot running habituation?
This third article is a 'reread' and comes from Bas Van Hooren and colleagues' January 2019 paper. This article discusses the applications of the dynamical systems theory and concepts such as 'attractors' for injury prevention in running but also falls prevention in older adults.
Our fourth article is definitely a controversial one from Franco Impellizzeri and colleagues. This is a preprint and is a request of retraction to the British Journal of Sports Medicine. This short piece briefly outlines the methodological issues around the acute chronic workload ratio and why data presented may have been misleading.
The final paper is a really interesting one from Amy Waters and colleagues in the International Sport Coaching Journal. The purpose of this article was to establish and compare the experiential knowledge of elite sprint running techniques of applied sports biomechanists and sprint coaches. Both groups view sprinting performance through different lenses based on their experience and knowledge and this article outlines the differences, but also the similarities.
For more sports science check out our blog for in-depth case studies and industry updates. Also, be sure to sign up for our newsletter below so you are always up to date with the latest research.