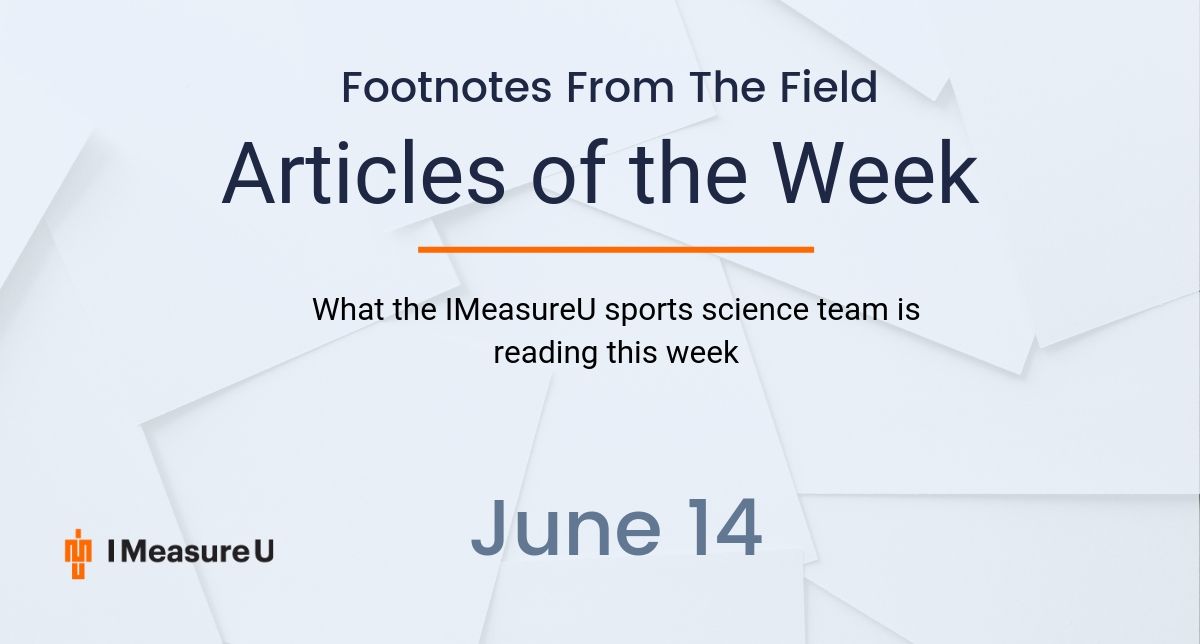 Here's what the sports science team at IMeasureU is reading this week:
The first article from this edition of the articles of the week comes from Nizam Ahamed and colleagues from the University of Calgary. The paper is featured in the Sensors journal and aimed to determine the number of runs needed to establish a stable running pattern during different conditions. This is important to practitioners who may be using inertial sensors to regularly assess running patterns to try and preempt signs of fatigue or injury.
The next article again comes from the Sensors journal but this one is authored by Veronica Bessone at the University of Munich. This article aims to shed greater light on the ski position during the flight phase using inertial sensors and how landing preparation affects impact kinetics. For those working in winter sports, this article will definitely be of interest.
This article in the Sports journal from Ryu Nagahara and colleagues investigated what affect the intention to lean forward during initial sprint acceleration had on spatiotemporal and ground reaction force variables. It aims to provide sprinters and coaches with useful information which can guide technical training techniques and therefore improve sprinting performance. 
Our forth article comes from the Journal of Sports Medicine and Physical Fitness and is authored by Diego Alonso-Fernandez and colleagues. This paper investigated whether the reverse Nordic hamstring exercise caused architectural changes to the rectus femoris. Due to the high incidence of quadriceps injuries in elite sport and specifically in the rectus femoris, it is useful for the practitioner to know what changes occur due to the eccentric loading training.
The last article in this weeks articles of the week comes from Aaron Fox at Deakin University and is a SportRxiv preprint. Aaron's article aimed to determine whether there was a relationship between biomechanical factors associated with ACL loading or injury risk and jump performance.
Understanding the relationships between landing biomechanics and subsequent jump performance metrics may yield better insight for
the design of targeted ACL injury prevention programs.
For more sports science check out our blog for in-depth case studies and industry updates. Also, be sure to sign up for our newsletter below so you are always up to date with the latest research.