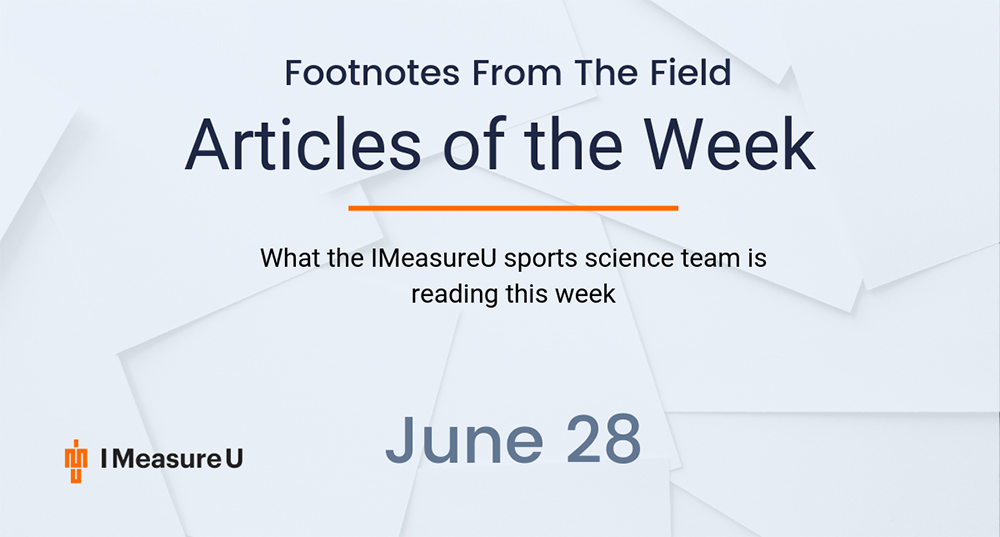 Here's what the sports science team at IMeasureU is reading this week:
The first article from this edition of the articles of the week comes from Sharief Hendricks and colleagues. In this article, the authors propose that the challenge point be used as a measure to quantify skill load. The challenge point describes the interaction between the difficulty of the task and potentially available information to the player.
The next article comes from Jordan Stares at the West Coast Eagles in the AFL. It aims to quantify and describe the risk of injury in a 12-week period after return to performance from an index injury in Australian football players. Findings from this article suggest that athletes returning from injury are at increased risk for a number of weeks and therefore precautionary measures should be put in place to get athletes through this period.
This meta-analysis comes from Daniel Glassbrook who is undertaking a Ph.D. at Macquarie University and the South Sydney Rabbitohs. The aim of this review was to synthesize studies that investigated the physical demands of professional rugby league match-play. For anyone working in rugby league, this is a must-read.
Our fourth article comes from the Journal of Clinical Biomechanics where author, Matthew King aims to determine the differences in lower limb biomechanics between men and women with hip-related groin pain during functional tasks. For practitioners and clinicians who are treating men and women with hip pain, this article will definitely be of interest.
The last article in this weeks articles of the week comes from the European Journal of Sports Science where Sinéad O'Keeffe and colleagues aimed to examine internal loads in male adolescent Gaelic footballers and their association with musculoskeletal injury. The conclusions suggest that managing internal load through monitoring RPE may lead to reduced injury risk and subsequently minimize dropout.
For more sports science check out our blog for in-depth case studies and industry updates. Also, be sure to sign up for our newsletter below so you are always up to date with the latest research.