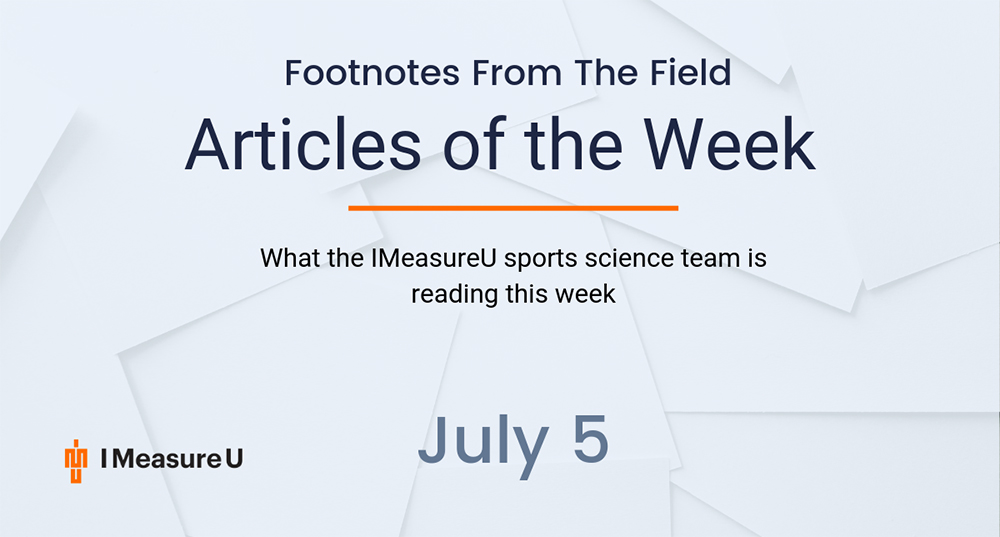 Here's what the sports science team at IMeasureU is reading this week:
The first article from this edition of the articles of the week is a review by Joshua Ruddy and colleagues. There is often a lot of confusion about the terminology when it comes to injury prediction and statistical modelling but this article aims to makes sense of that and explain how certain approaches may be more suitable to specific environments. 
The next article comes from author Adrià Sánchez Ballesta and colleagues. The aim of this article was to observe whether there is a relationship between the levels of approach of the exercises and external load during training, and whether the variables that define the design and complexity of the training exercises, such as space, opposition and type of game, can also define the quantity of external load to which the players are exposed.
This article in the Journal of Strength & Conditioning Research by Eduardo Abade and colleagues discusses a very topical issue at the moment, the force-vector theory. This study aimed to explore the effects of adding vertical or horizontal force-vector exercises to a 20-week in-season general strength training program on jumping and sprinting performance of youth football players.
Our fourth article comes from Gait and Posture. Author Paul Macadam and colleagues review the validity and reliability of sprint performance metrics computed using inertial sensors. With inertial sensors being used more and more in performance sport, this review article gives some clear take home points for practitioners.
The last article in this weeks articles of the week comes from Daniel Sporri in the Journal of Sports Sciences. This study examined the seasonal variation in vertical stiffness and its relationship to soft-tissue injuries in professional Australian football. It aimed to provide practitioners with a recommendation as to whether vertical stiffness should be assessed when trying to mitigate the onset of injury or identify at-risk players.
For more sports science check out our blog for in-depth case studies and industry updates. Also, be sure to sign up for our newsletter below so you are always up to date with the latest research.