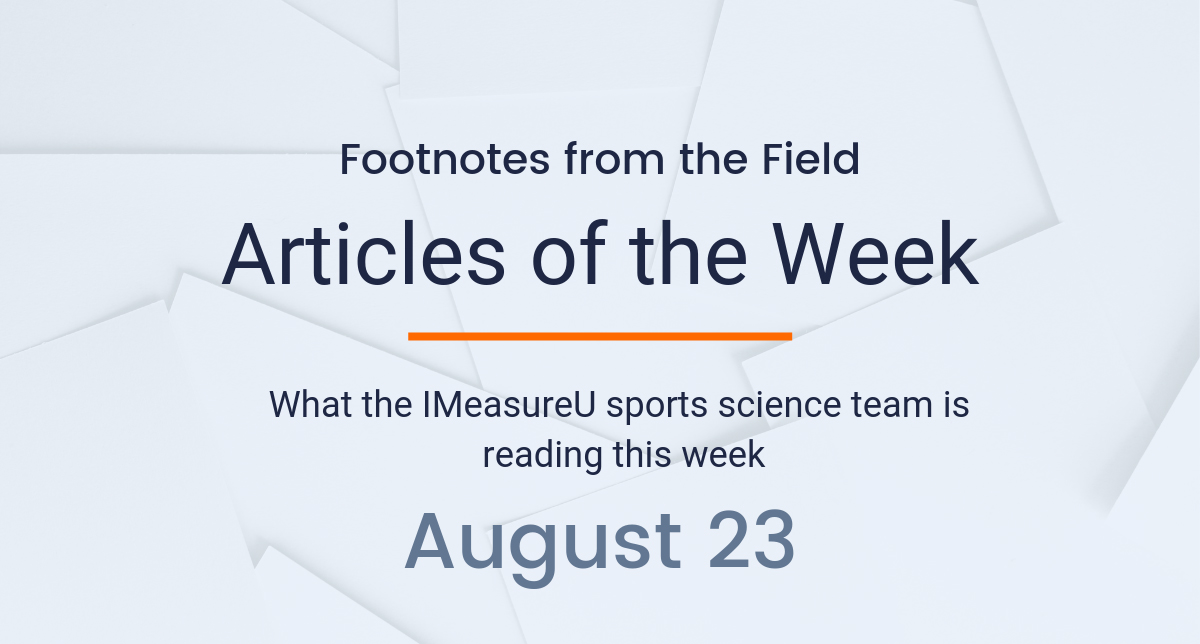 Here's what the sports science team at IMeasureU is reading this week:
The first article from this edition of the articles of the week comes from Jesson Baumgartner and colleagues in the Scandinavian Journal of Medicine and Science in Sport. Clinicians at times may want to increase the stride rate of runners for injury prevention and/or rehabilitation programmes. This paper looks into home-based gait retraining programmes and if stride rate can be increased. Based on the results and using a watch and food pod it seems that it can be increased by 5-10% in runners with a stride rate of 85 or less. This may be useful to practitioners who work with recreational runners or runners who are remote and gait retraining is part of their programme. 
The next article comes from author Stephanie Hody and colleagues in Belguim in the Frontiers in Physiology Journal. This article gives an interested overview of eccentric training and how it may be incorporated into programmes for numerous populations from elite athletes to those with chronic diseases. Hody et al. (2019) also explain the mechanisms behind the benefits of eccentric training as well as some of the negative effects of using this modality.
This article in the Sports Journal by authors Neil Clarke and Mark Noon from the University of Coventry looks to provide new insights into fatigue and recovery in all football codes. Clarke and Noon pulled together 9 papers from 9 different experts, all outlining their research on recovery. The authors then concluded with practical recommendations for coaches and sports scientists who are looking to maximise the recovery of athletes playing across all football codes. 
Our fourth article comes from the Journal of Strength and Conditional Research by author Hendrik Dirk De Heer and colleagues. IMU Step is often used in early stage rehabilitation with athletes and often in conjunction with an AlterG treadmill. The AlterG will increase support for an athlete to reduce impact forces and metabolic demand of walking and running. However, according to this research, the placement of the support frame has a significant effect on support placed on the body. Placing the frame higher than the neutral position resulted in significantly more support, whereas placing the frame lower led to less support. This may give practitioners vital information to reduce accuracy issues when athletes are running on an AlterG treamill.
The last article in this week's articles of the week comes from Arnhild Bakken and colleagues in the American Journal of Sports Medicine. This paper investgiates the association between hip and thigh muscle strength and the risk of lower extremity injuries in professional male soccer players. The results of this study suggest that there is a weak association with the risk of lower extremity injuries for 2 strength variables: greater quadriceps concentric muscle strength at high and low speeds. Therefore strength testing, as performed in the present study, cannot be recommended as a screening test to predict injuries in professional male soccer.
For more sports science check out our blog for in-depth case studies and industry updates. Also, be sure to sign up for our newsletter below so you are always up to date with the latest research.