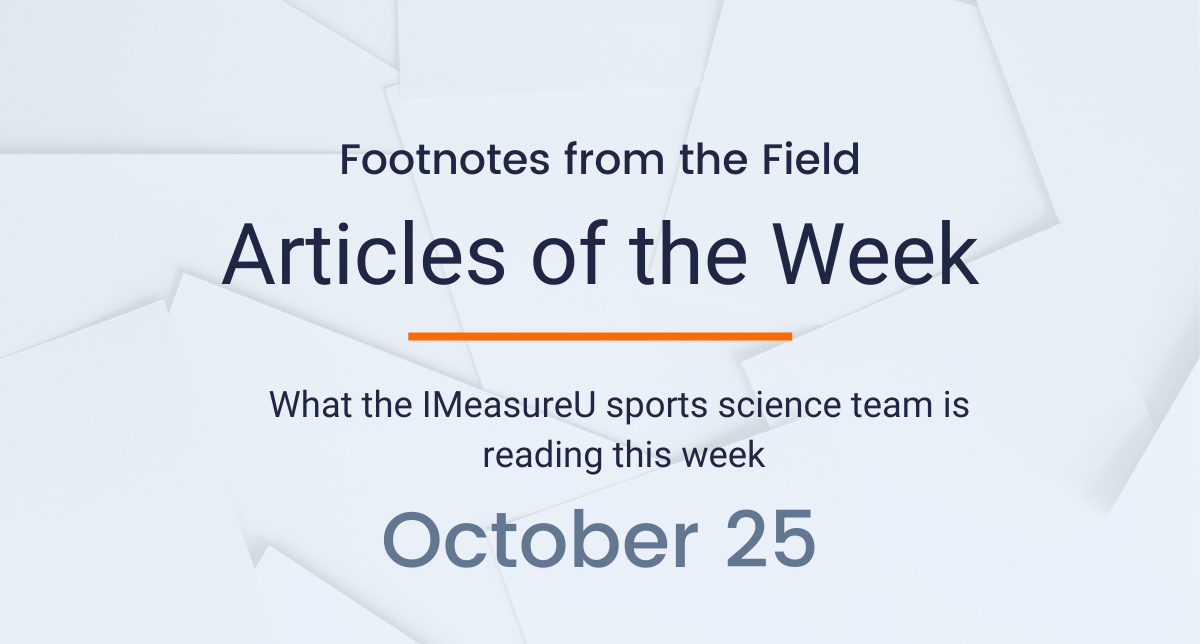 Here's what the sports science team at IMeasureU is reading this week:
Monitoring the hitting load is almost the missing piece of the puzzle when it comes to building the overall picture of load in tennis. In this article, David Whiteside and coleagues in the International Journal of Sports Physiology and Performance aimed to develop an automated stroke-classification system to help quantify hitting load in tennis using inertial sensors. They concluded that with a view to monitoring external load, the combination of miniature inertial sensors and machine learning offers a practical and automated method of quantifying shot counts and discriminating shot types in elite tennis players.
The next article comes from author Ryu Nagahara and colleagues from the National Institute of Fitness and Sports in Kanoya, Japan in the Journal of Sports Science. This study aimed to examine the validity of inertial measurement unit (IMU)-based hip flexion strength test, and also to investigate the hip flexion strength test as an indicator of sprint performance. The authors concluded that angular impulse, mean moment, positive work and power are recommended to be used for the IMU-based hip flexion strength test variables in terms of accuracy and validity and the proposed IMU-based hip flexion strength test can be an indicator for better sprinting performance.
The next article comes from Julia Brant and colleagues at the University of Colorado in the Orthopaedic Journal of Sports Medicine. The aim was to describe the epidemiology oflower extremity sports injuries among US high school athletes using a large national database of athletes in sports that could be considered gender comparable, given the rules of play and protective equipment. This study demonstrated that lower extremity sports injuries are common among high school athletes and disproportionately affect girls more than boys, especially when looking at severe injuries and resource utilization.
Our fourth article comes from Irineu Loturco and colleagues in the Biology of Sport Journal. This study examined the relationships between vertical jump asymmetries and speed and power performance in elite female soccer athletes. The data from this study suggest that asymmetry scores derived from unilateral vertical jumps are not capable of influencing the speed-power performance of professional female soccer players.
The last article in this week's articles of the week comes from Sam Ryan and colleagues in the International Journal of Sports Physiology and Performance. The purpose of this article was to examine the measurement reliability and sensitivity of common athlete monitoring tools in professional Australian Football. In conclusion, the heart rate recovery test, countermovement jump test, eccentric hamstring force test, and perceptual wellness all possess acceptable measurement sensitivity. This information can be crucial for practitioners given how much technology is available but with such limited contact time with players. 
For more sports science check out our blog for in-depth case studies and industry updates. Also, be sure to sign up for our newsletter below so you are always up to date with the latest research.