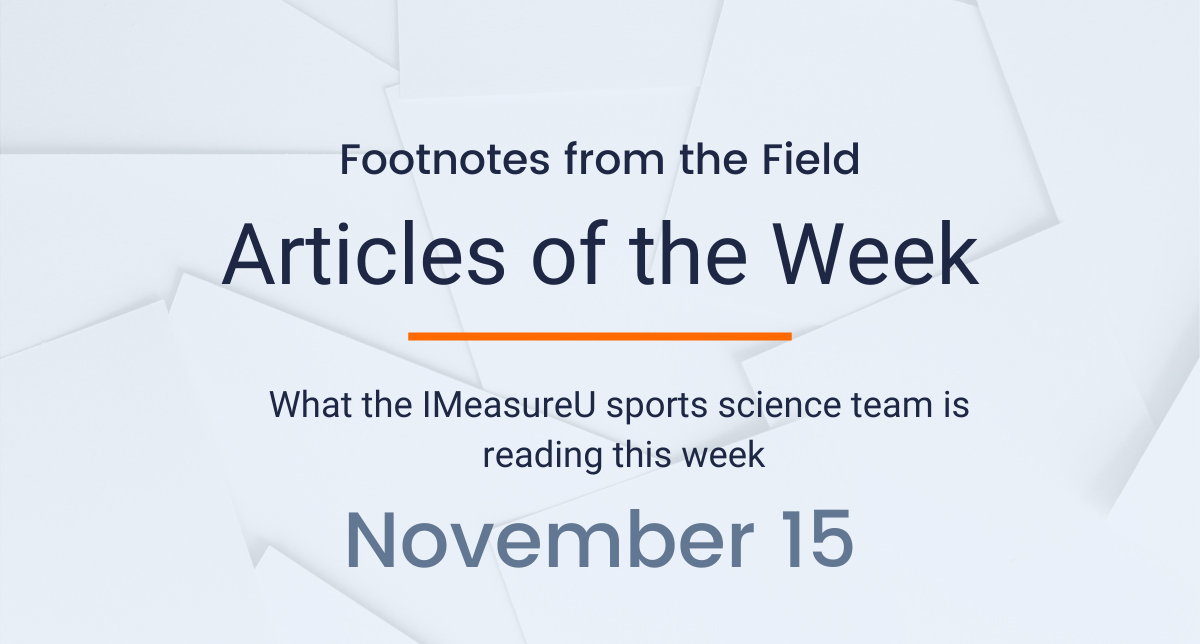 Here's what the sports science team at IMeasureU is reading this week:
On the back of last weekends Sports Surgery Clinic workshop which hosted some of the worlds finest coaches including JB Morin, Jurdan Mendiguchia, Frans Bosch etc, this paper seemed fitting to discuss. John Davis and Allison Gruber from Indiana University discuss the use of technology to track exposure to running. The articles details the practical issues surrounding the use and analysis of data from such devices, including how wearable devices can be used to assess both internal and external training loads. The key take home point from this article in the BMJ Open Sport & Exercise Medicine Journal is that 'integrating exposure data from multiple sources can generate rich, informative datasets and lead to better insights into running-related injuries'.
The second article in this weeks list comes from Eduardo Fashioni and colleagues in the Journal of Sports Sciences discussing the efefectiveness of half-time re-warm-ups in soccer. The aim of this study was to assess the influence of a half-time re-warm up strategy on measures of performance and the physical and perceptual response to soccer-specific activity. Results suggest that the re-warm-up elicited an improvement in 20 m sprint times, and both squat and countermovement jump height following the re-warm-up and during the initial stages of the second half. This may be something for strength and conditioning staff to consider implementing if they want to maximise the performance of their players in the second half.
The final article comes from Guillaume Laffaye and colleagues in Frontiers in Physiology. Self-myofascial release (foam rolling) is getting a lot of publicity recently and this paper aims to assess the impact of self-myofascial massage with the aid of a foam roller on a lower limb immediately after high-intensity interval training (HIIT), using the Tabata protocol (20 s work/10 s rest, repeated 8 times), according to selected recovery variables. Results of this paper reveal the poor effect of self-myofascial release on regaining the initial value of performance but could be useful for reducing DOMS after high-intensity interval training.
For more sports science check out our blog for in-depth case studies and industry updates. Also, be sure to sign up for our newsletter below so you are always up to date with the latest research.