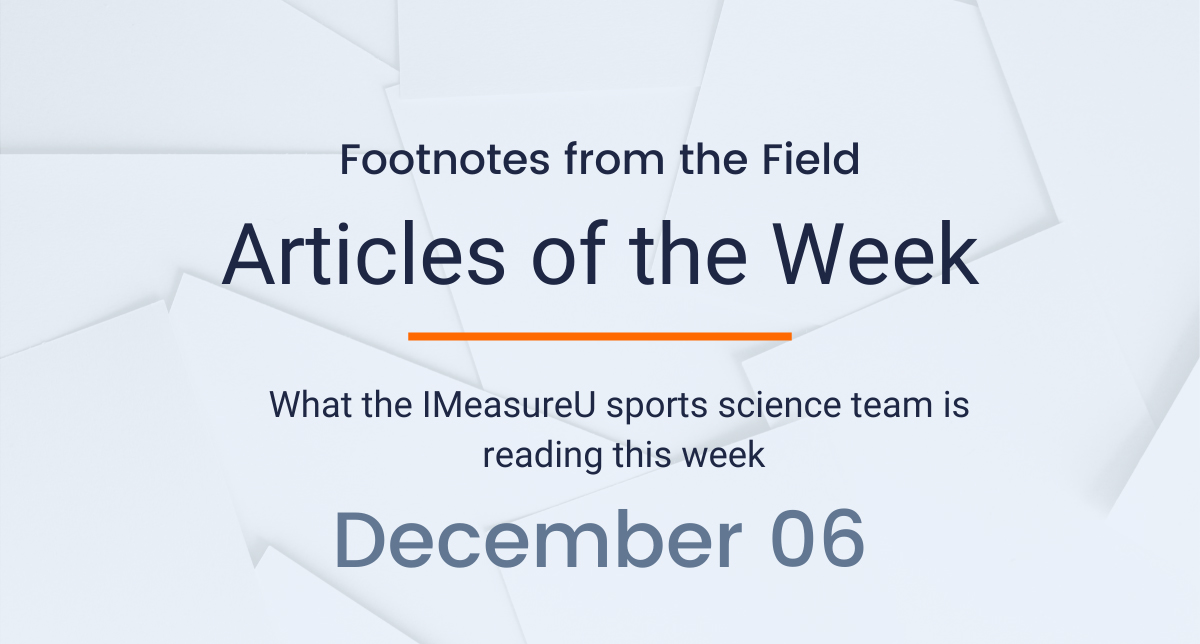 Here's what the sports science team at IMeasureU is reading this week:
This first study of this weeks articles of the week comes from the team at Sports Performance Research Institute New Zealand and author Jamie Douglas. Jamie has some fantastic research in the area of eccentric training and this paper adds to this great work. Douglas et al. (2019) investigated the role of reactive and eccentric strength in stiffness regulation during maximum velocity sprinting (Vmax) in team sport athletes compared with highly trained sprinters. They found that isoinertial eccentric force was largely correlated with Vmax, but only moderately correlated with vertical stiffness. Reactive and eccentric strength contribute to the ability to regulate leg spring stiffness at Vmax, and subsequently, the attainment of faster sprinting speeds in highly trained sprinters versus team sport athletes.
The second article in this weeks list comes from Dustin Oranchuk and the team at Sports Performance Research Institute New Zealand in the Journal of Strength and Conditioning Research. Oranchuk and colleagues' main objective of this review was to synthesize and critically analyze relevant biological, physiological, and biomechanical research and develop a rationale for the value of eccentric quasi-isometric training. Oranchuck et al. (2019) found that based on the relevant literature, eccentric quasi-isometrics (EQIs) may provide a practical means of increasing total volume, metabolite build-up, and hormonal signaling factors while safely enduring large quantities of mechanical tension with low levels of peak torque. However, EQI contractions likely hold little neuromuscular specificity to high velocity or power movements.
The final article comes from Ben Macdonald and colleagues at British Athletics. The authors present an overview of the general principles of, and rationale for, exercise-based hamstring injury rehabilitation in British Athletics. We describe how British Athletics clinicians use the British Athletics Muscle Injury Classification (BAMIC) to help manage elite track and field athletes with hamstring injury. This is very much a descriptive piece, however it gives an incredibly detailed itsight into how some of the best athletes in the world are managed through a hamstring injury.
For more sports science check out our blog for in-depth case studies and industry updates. Also, be sure to sign up for our newsletter below so you are always up to date with the latest research.