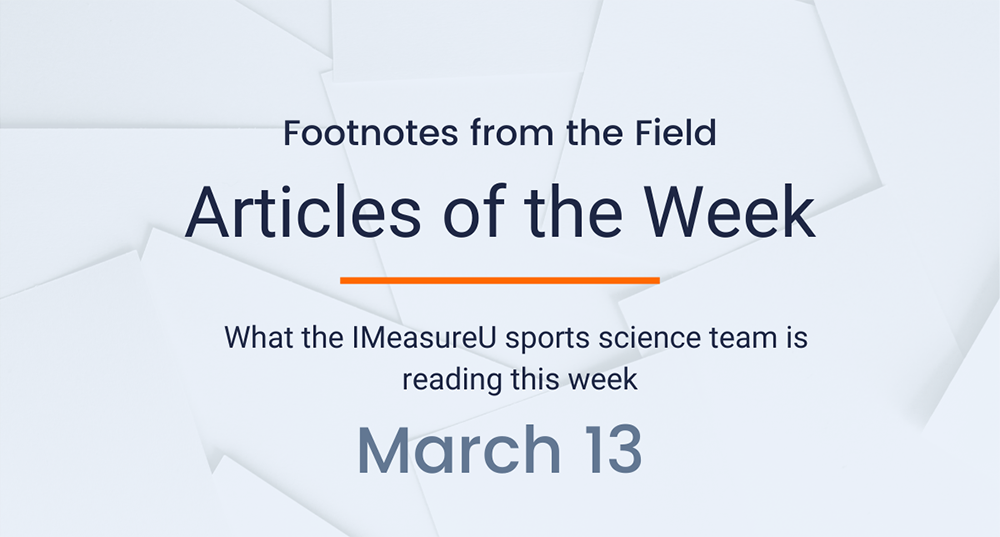 Here's what the sports science team at IMeasureU is reading this week:
This first study of this weeks articles of the week comes from Chris Bishop and colleagues in the open-access Aspetar Journal. The aim of this article was to highlight key considerations regarding the formulas selected for calculating the magnitude of asymmetry during injury rehabilitation. And secondly, propose an evidence-based justification for monitoring both the magnitude and direction of asymmetry during the rehabilitation process. There are some excellent recommendations in this article, particularly around using the IF function in Microsoft Excel to enable the direction of asymmetry to be monitored without altering the magnitude.
The second article in this weeks list comes from Athol Thomson, again in the open-access Aspetar Journal. In this article, Athol speaks to practitioners from various different sports and interviews them around the topic of injury and footwear. Practitioners from NFL, AFL and soccer all give their opinion on thr interaction between what footwear is worn before, during and after injuries occur.
The final article comes from Olivier Girard and colleagues in the Frontiers Journal. In this article, the authors examined the effect of running velocity upon magnitude and range of asymmetry in the main kinetics and kinematics of treadmill running at constant, submaximal velocities. Results suggest that modifying treadmill belt velocity between 10 and 25 km.h−1 induced large adjustments in most running kinetics and kinematics. The relatively large range of asymmetry between participants for some variables reinforces the importance of assessing asymmetry on an individual basis.
For more sports science check out our blog for in-depth case studies and industry updates. Also, be sure to sign up for our newsletter below so you are always up to date with the latest research.