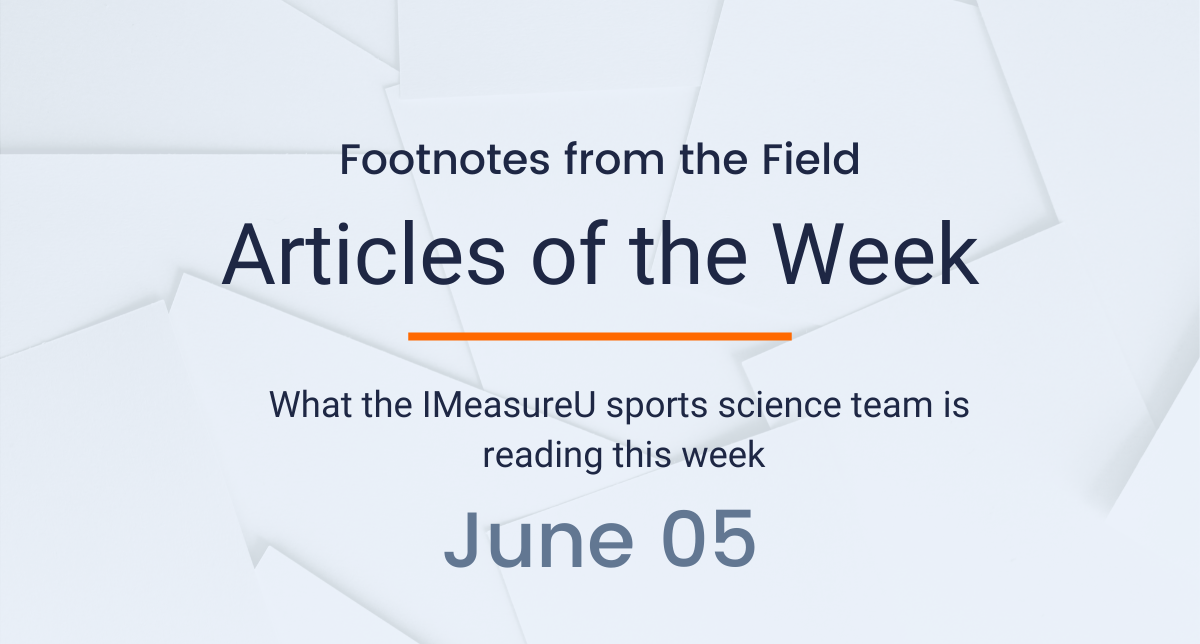 Here's what the sports science team at IMeasureU is reading this week:
The first article this week comes from Paul Read and colleagues in the Amercian Journal of Sports Medicine. It is this article that Jaime Valadao and Dan Savin from the IMeasureU team reviewed in the video above. The authors aimed to examine kinetic parameters recorded during a countermovement jump with a force platform in healthy professional soccer players and to compare their performance with those who had undergone ACLR at different stages of their rehabilitation. Between-limb deficits in key eccentric and concentric loading parameters remain >9 months after ACLR, indicating a compensatory offloading strategy to protect the involved limb during an athletic performance task. Concentric impulse asymmetry could be considered an important variable to monitor during rehabilitation.
The second article in this week's list comes from Alberto Filter and colleagues in the International Journal of Sports Medicine. The authors compared the neuromuscular behavior and foot contact-time between outside leg and inside leg during curve sprinting to both sides in soccer players. The authors concluded that electromyography activity showed significant differences (p≤0.05) during curve sprinting between outside (higher in biceps femoris and gluteus medius) and inside leg (higher activity in semitendinosus and adductor). In summary, inside and outside leg play different roles during curved sprints, but inside leg is more affected by the change from straight to curve sprint.
The final article comes from Chris Wing and Chris Bishop in the Strength and Conditioning Journal. This review aimed to summarize the injury mechanisms, injury rate, and risk factors on HSI, with a focus on providing evidence-based guidelines for multifaceted injury prevention programs. The authors concluded that practitioners should be aware that a variety of injury mechanisms exist. Furthermore, a multitude of possible contributing risk factors for HSI have been well documented within the literature, highlighting the need for injury prevention programs to be multifaceted in nature.
For more sports science check out our blog for in-depth case studies and industry updates. Also, be sure to sign up for our newsletter below so you are always up to date with the latest research.