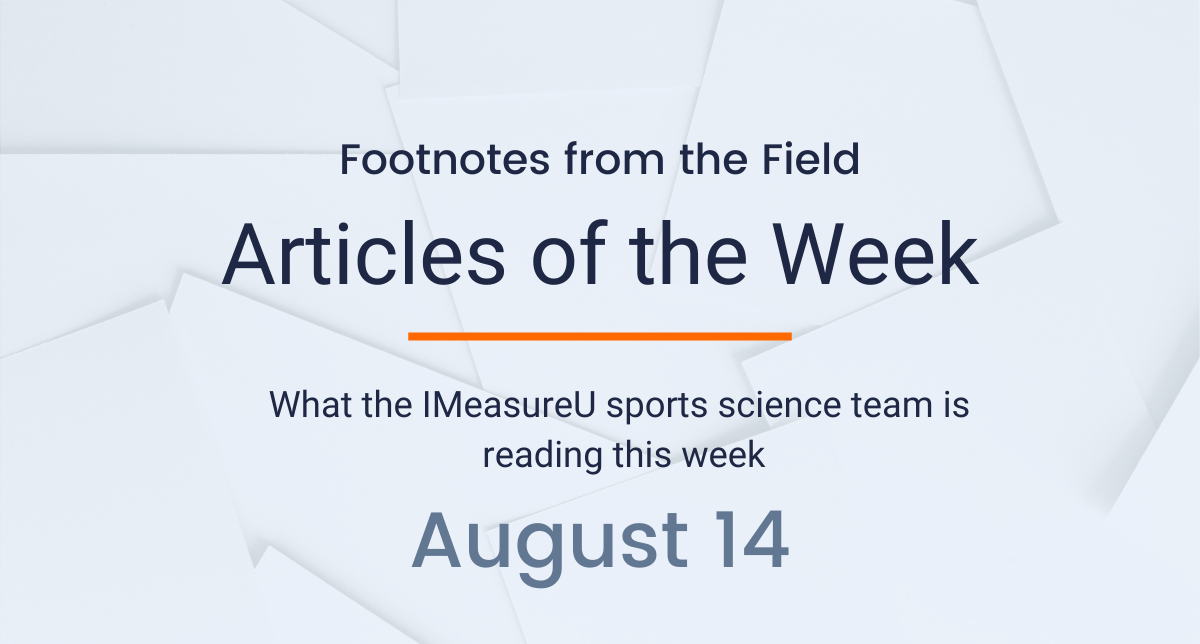 Here's what the sports science team at IMeasureU is reading this week:
The first item this week comes from Enda King, Head of Performance at Sports Surgery Clinic (SSC), Dublin. This is slightly different from our usual article after Dan Savin from the the IMeasureU sports science team spoke to Enda for the latest video in the article deep dive series. Rather than only discussing an individual paper, Enda and Dan discussed Enda's role at SSC but also his recent paper in the February edition of the American Journal of Sports Medicine.
The second article in this week's list comes from Xianta Jiang and colleagues at Simon Fraser University, Vancouver. In this paper, the authors aimed to determine (i) whether a single inertial sensor per lower limb was able to estimate the magnitude and timing of the vGRF peaks during walking using a random forest method and (ii) the optimal placement of a single IMU. They concluded that vertical ground reaction force can be estimated using only a single IMU via machine learning algorithms. This research sheds light on the development of a portable wearable gait monitoring system reporting the real-time vGRF in real-life scenarios.
The final article comes from Francois-Denis Desgorces and colleagues in the PLUS ONE open access journal. The purpose of this study was to quantify training loads of high intensity sessions through original methods (TRIMP; session-RPE; Work-Endurance-Recovery) and their updated alternatives (TRIMPcumulative; RPEalone; New-WER). The authors concluded that significant differences in training load quantification appear between original and alternative methods stressing that they are not interchangeable. This is important information for the practitioner.
For more sports science check out our blog for in-depth case studies and industry updates. Also, be sure to sign up for our newsletter below so you are always up to date with the latest research.