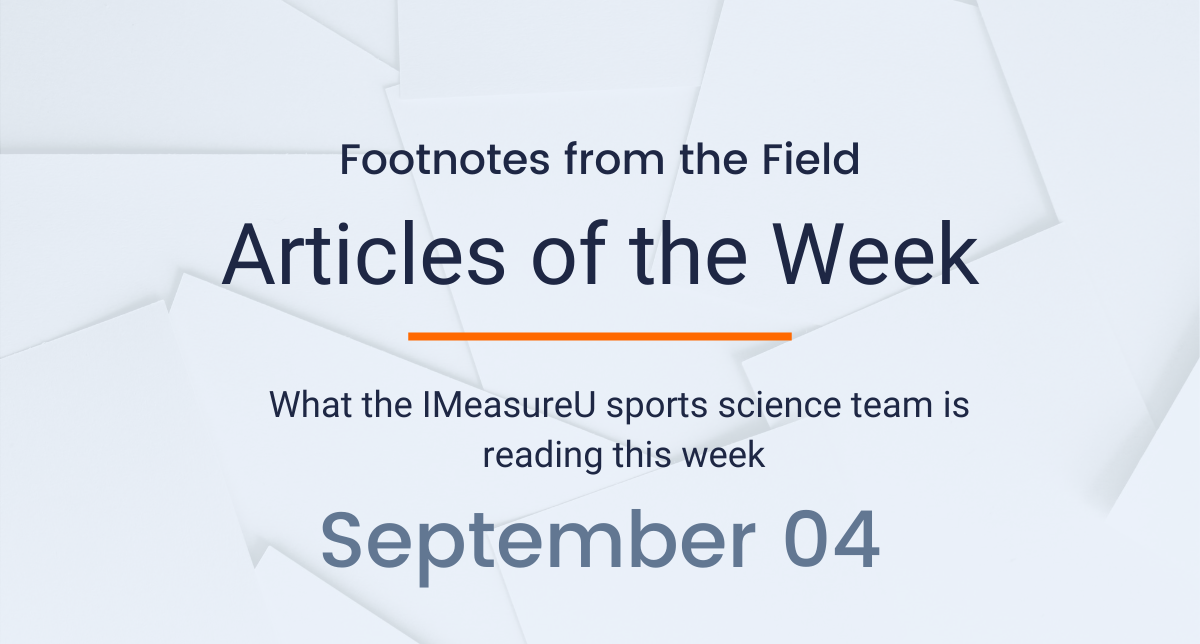 Here's what the sports science team at IMeasureU is reading this week:
The first item this week comes from Stu Cormack, Associate Professor at Australian Catholic University (ACU). In this video, Dan and Jaime from the IMU sports science team speak to Stu about the ACU SPRINT performance department and how he has to got to where he is today. Stu was a sports scientist in pro sport before transitioning into academy and has some fantastic research when it comes to training load.
The second article in this week's list comes from Carlos Gomez-Carmona and colleagues in the PLoS One open access journal. The purposes of the present study were to reflect the current state of knowledge, outline best practices and conclude recommendations about the use of accelerometry as a method of workload monitoring in invasion team sports. The first of three concluding remarks from the authors states that there has been an increase in workload monitoring through accelerometry-based indexes in training and competition, for which previous validity and reliability analysis is necessary both to evaluate the accuracy and allow comparison among and within units.
The final article comes from Billy Senington and colleagues in the British Journal of Sports Medicine open access journal. The aim of this study was to investigate spinal kinematics, tibial and sacral impacts during fast bowling, among bowlers with a history of low back pain (LBP) (retrospective) and bowlers who developed LBP in the follow-up season (prospective). The authors concluded that retrospective analysis displayed non-significant differences in kinematics and impacts. It is unclear if these are adaptive or impairments. Prospective analysis demonstrated large effect sizes for lumbar extension during bowling suggesting a target for future coaching interventions.
For more sports science check out our blog for in-depth case studies and industry updates. Also, be sure to sign up for our newsletter below so you are always up to date with the latest research.