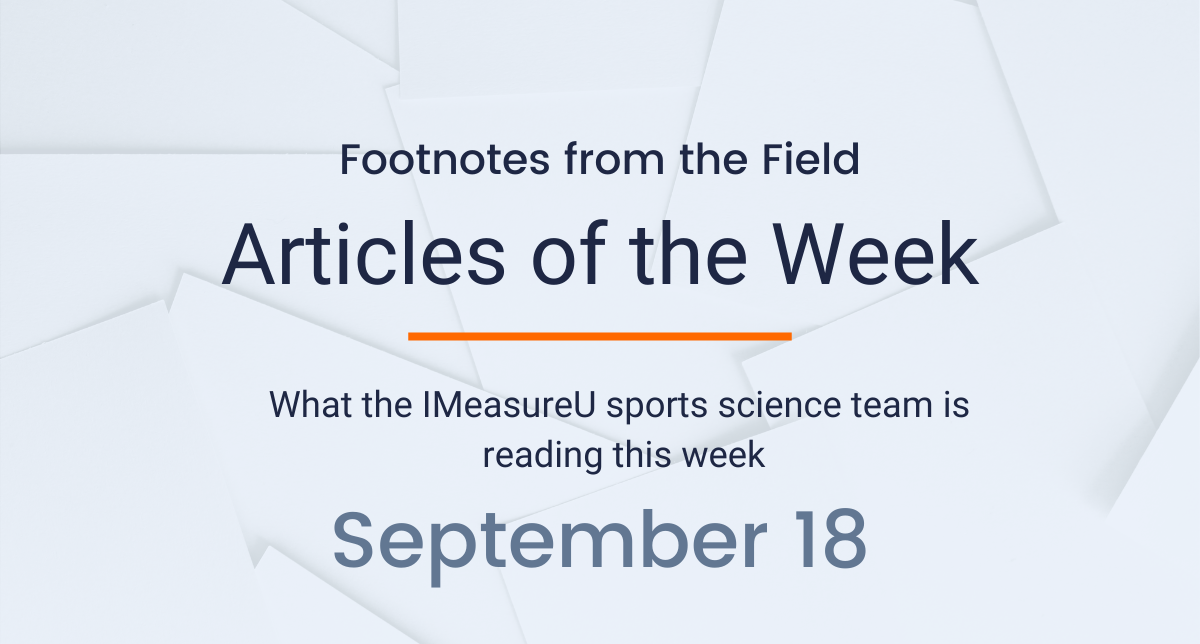 Here's what the sports science team at IMeasureU is reading this week:
The first item this week comes from Heidi Thornton and colleagues in the Journal of Strength and Conditioning Research. The purpose of this study was  to provide an overview of the externally measured movement characteristics of Australian Football League Women's (AFLW) competition, and the variability in this between matches. Large within-athlete variation in match demands between rounds was observed (z-score up to -1.8 SD for distance), and the maximal means for speed and acceleration demonstrate the extensive physical demands of AFLW competition. These data describe the intense and variable physical demands of AFLW competition, and further provide novel information regarding the maximal mean intensities and intercept and slopes, which should assist practitioners in planning and prescribing training in preparation for competition.
The second article in this week's list comes from Madison Pearson and colleagues in the International Journal of Environmental Research & Public Health. The authors aimed to quantify the between-day reliability of 10%, 20%, and 30% velocity loss thresholds (VLTs)on kinetic and kinematic outputs, changes in external load, and repetition characteristics in well-trained athletes. The findings in this study demonstrate that by utilizing VLTs, kinetic and kinematic outputs can be prescribed and replicated across training mesocycles. Thus, for practitioners wishing to reliably control the kinetic and kinematic stimulus that is being applied to their athletes, it is advised that a velocity-based approach is used.
The final article comes from Monica Morral-Yepes and colleagues in the Journal of Strength & Conditioning Research. The aims of this systematic review were to (a) examine the reliability of the reactive agility tests and (b) analyze the discriminatory validity of the agility tests. The authors concluded that reactive agility tests show good reliability and discriminatory validity. However, most agility tests occur in simple contexts whereby only 2 possible responses are possible. Therefore, future research should consider creating more specific and complex environments that challenge the cognitive process of high-level athletes.
For more sports science check out our blog for in-depth case studies and industry updates. Also, be sure to sign up for our newsletter below so you are always up to date with the latest research.