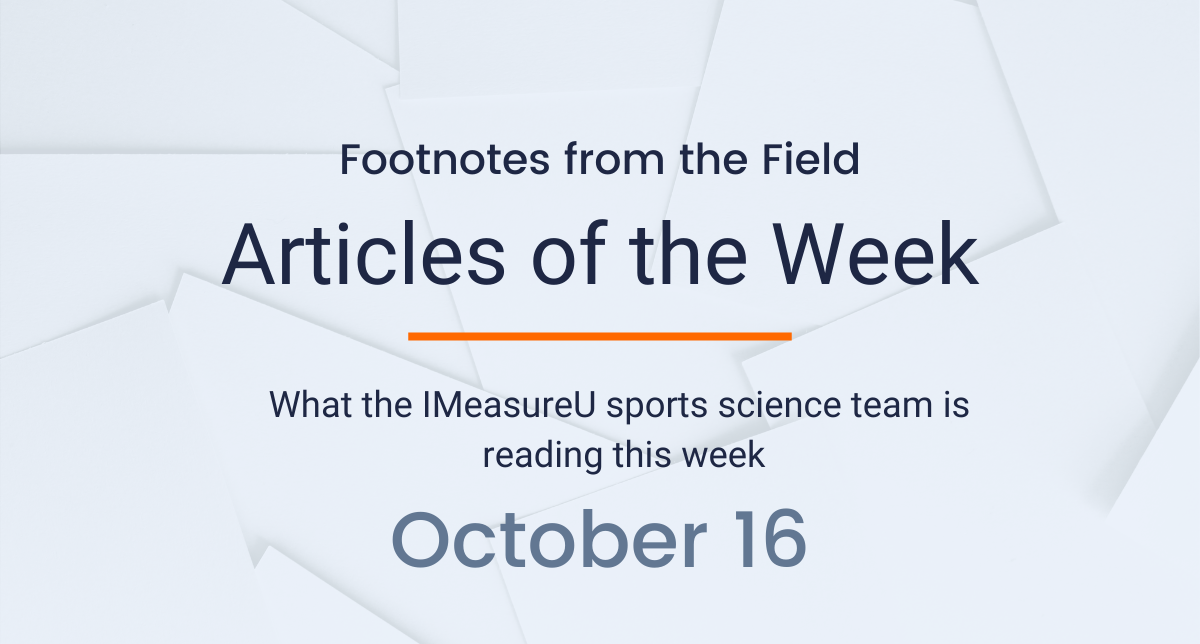 Here's what the sports science team at IMeasureU is reading this week:
The first item this week is from Brady Green and colleagues in the American Journal of Sports Medicine. The aim of this article was to determine whether clinical and magnetic resonance imaging (MRI) data are associated with Return to play (RTP) and recurrence after calf muscle strain injuries. They concluded that a running-related mechanism of injury and the presence of aponeurotic disruption on MRI were associated with a longer RTP period. Clinical rather than MRI data best indicate the risk of recurrent calf muscle strain injuries.
The second article in this week's list comes from Marco Beato and colleagues at the University of Suffolk in the Journal of Sports Sciences. The aims of this study were to examine the test-retest reliability and construct validity of the flywheel-squat test. The authors found excellent relative and acceptable absolute  reliability scores for both concentric and eccentric power outputs collected during the flywheel-squat test. The same outputs showed moderate to large positive correlations with concentric and eccentric knee extensor and flexor muscle peak force values measured during the isokinetic test. The flywheel-squat test is a valid and reliable test to assess lower limb performance given its correlation with isokinetic test, as well as its excellent relative and acceptable absolute reliability.
The final article comes from Luke Murray and colleagues from the University of Brighton in the Physiotherapy Theory and Practice Journal. The purpose of this study was to take a lifeworld perspective to explore how living with injury was meaningful to professional rugby players. Participants described the challenge to their sense of self and 'being' athletes', as the isolation from the team deprived them of their sense of belonging. Participants illustrated the experienced significance of their relationships, the uncertainty over their lives and the unique strategies to cope. Emotions of anxiety, grief, anger, and shock reverberate throughout their accounts.
For more sports science check out our blog for in-depth case studies and industry updates. Also, be sure to sign up for our newsletter below so you are always up to date with the latest research.