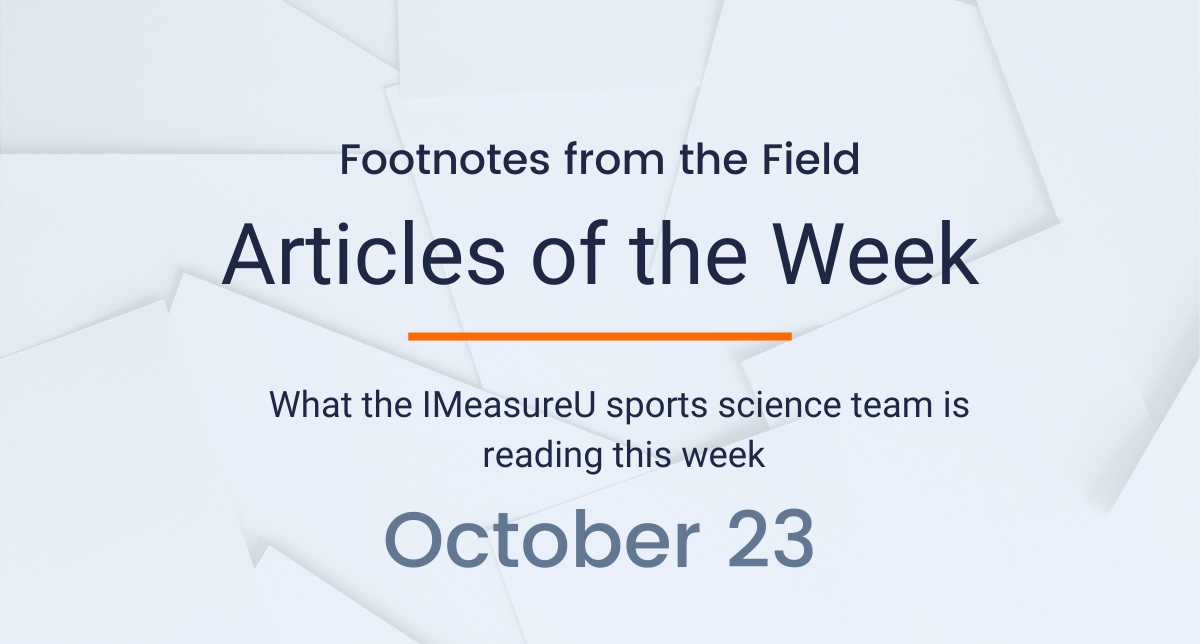 Here's what the sports science team at IMeasureU is reading this week:
The first item this week is from Sagar Chawla and James Clemmons in the American Academy of Orthopedic Surgeons Journal. The authors dive into what 'big data' is, how its changing practice, potential limitations and where we go from here. Although this is slightly different from our regular articles, this gives a clear insight into how 'big data' is impacting decision making across orthopedic surgery and research.
The second article in this week's list comes from Bruce Jones and colleagues in the American Journal of Preventive Medicine. This article uses the injury data reviewed to illustrate the role of surveillance and research in injury prevention. The review provides the context for discussion of the implications of the Armed Forces Epidemiological Board work group's findings for the prevention of injuries in the military. While the work group recommends ways to prevent injuries, they felt the top priority for injury prevention must be the formation of a comprehensive medical surveillance system. The success of injury prevention will depend not just on use of surveillance but also partnerships among the medical, surveillance, and safety agencies of the military services as well as the military commanders, other decision makers, and service members whose direct actions can prevent injuries and disease.
The final review article comes from Patrick Grimm and colleagues in the Sports Medicine and Arthroscopic Review. This review compared the combat and noncombat related injuries in the US military. The authors concluded that non–combat-related musculoskeletal injuries (MSKI), while often less severe, are far more common than combat-related MSKI and overall cause a substantially greater number of lost duty days and nondeployable Service Members. Given the strain placed on health care and financial resources by MSKI, further efforts must be directed towards prevention, treatment, and rehabilitative strategies in order to mitigate the burden of MSKI in the US Military.
For more sports science check out our blog for in-depth case studies and industry updates. Also, be sure to sign up for our newsletter below so you are always up to date with the latest research.