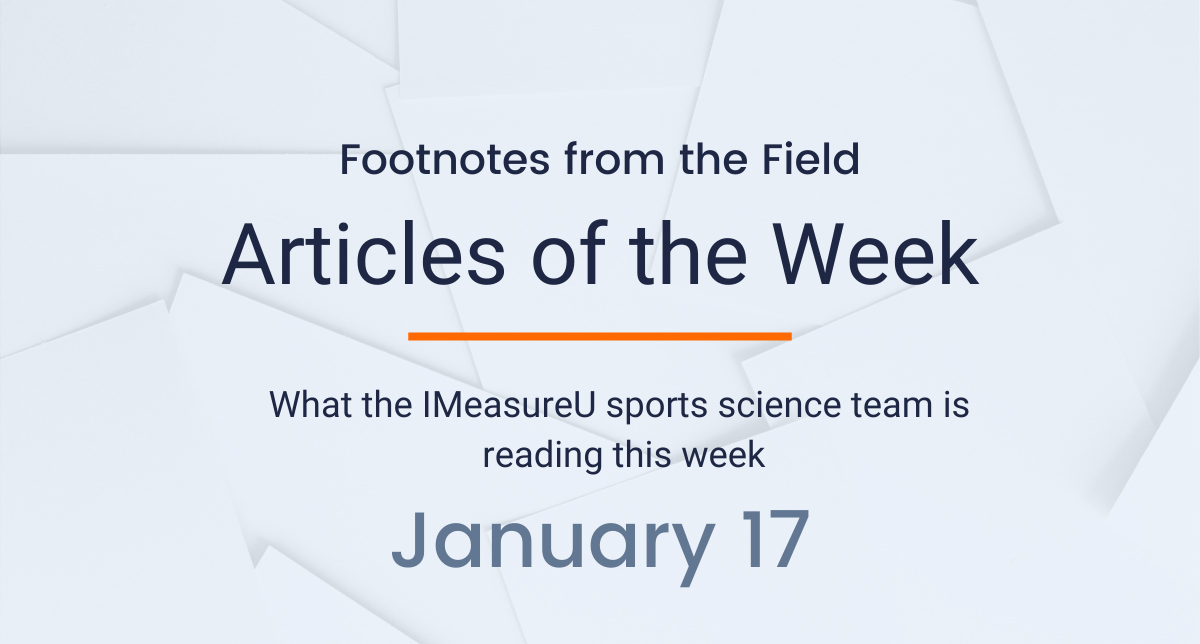 Here's what the sports science team at IMeasureU is reading this week:
This first study of this weeks articles of the week comes from Patrick Campbell and colleagues at the Queensland University of Technology in the European Journal of Sport Science. Wellness questionnaires have become extremely popular to guage the internal load placed upon an athlete during a training session or match. This study examined the controlled dosage effects of differing exercise intensities on wellness variables and subsequent associations with neuromuscular performance. The main recommendation from this study was that practitioners should be aware that wellness markers (e.g. readiness to train, fatigue, soreness, stress, mood) showed a limited capacity to differentiate between exercise intensities, therefore caution should be used when utilising wellness measures to inform decisions pertaining to athlete recovery.
The second article in this weeks list comes from Jaime Fernandez-Fernandez at the Universidad de León int he Journal of Strength & Conditioning Research. There is a lot of research in this area at the minute and it is only increasing our knowledge of the area. The aim of this study was to examine the differences in linear sprint, change of direction (COD) performance and COD deficit in under-13 (U13) and under-15 (U15) male and female tennis players. Results showed that males presented lower 20-m sprint times than females in the U13, and lower linear sprint and COD times than females in the U15 category. Comparing age-groups, U15 females demonstrated a higher COD deficit than the U13, while no differences were found in the other variables. In males, no significant differences were observed in any variable when comparing both categories.
The final article comes from David LaPlaca and Bryan Mccullick in the Journal of Strength & Conditioning Research. Each year before, during and after the NFL combine, there is controversy about the tests that are used to determine performance and their relationship to NFL performance. The reuslts of this study suggest that every offensive and defensive positions had at least 1 NFL Scouting Combine test result that correlated with NFL player performance. This information could be vital for those in charge of making recruitment decisions during this process.
For more sports science check out our blog for in-depth case studies and industry updates. Also, be sure to sign up for our newsletter below so you are always up to date with the latest research.