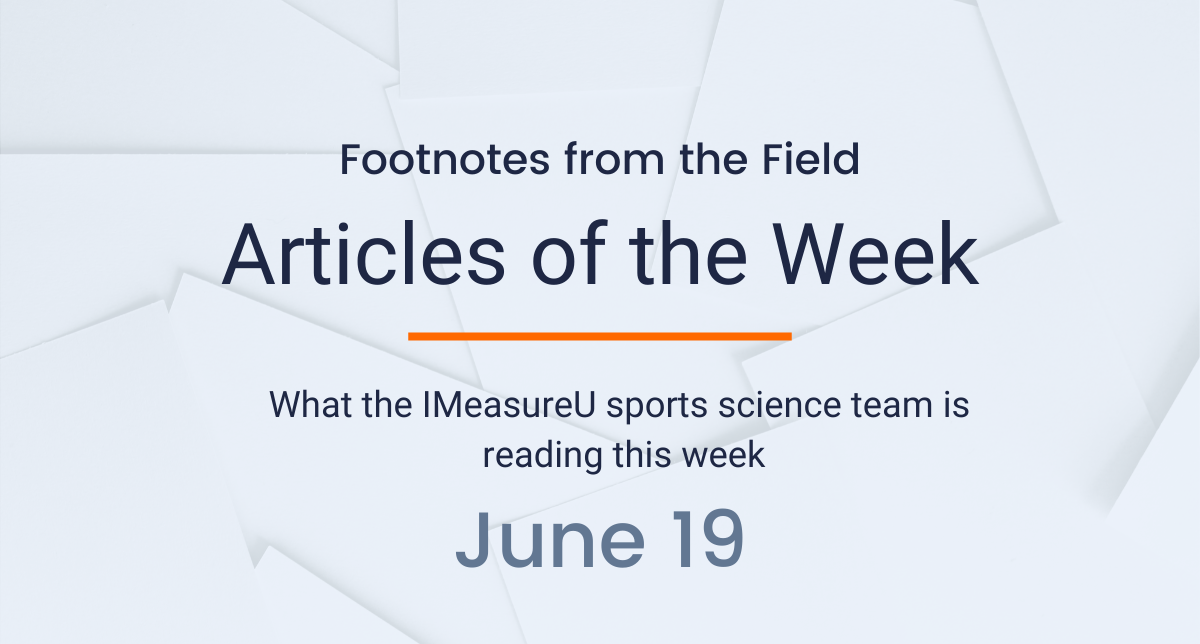 Here's what the sports science team at IMeasureU is reading this week:
The first article this week comes from Zane Websterin the South African Journal of Sports Medicine. It is this article that Jaime Valadao and Dan Savin from the IMeasureU team reviewed in the video above. In this video they were also joined by the author himself to discuss the intricacies of the article. The findings of this study highlight the different physical and physiological demands placed on players in the various sub-disciplines during training and the one-day game. The study found the major disparity between training and the one-day game was amongst the batsmen.
The second article in this week's list comes from Keith Stokes and colleagues in the International Journal of Sports Medicine. With a focus on rugby league and rugby union, the purpose of this review was to examine the available evidence related to the following: potential changes to physical qualities and function during the period of modified training, strategies to mitigate this decline in function, and the time taken to return players and teams to "game ready" status. The authors concluded that on return to training, the focus should be on
progression of all aspects of training, taking into account the status of individual athletes. However, athletes may require psychological support given the challenges associated with isolation and a change in regular training routine.
The final article comes from Christopher Bishop and colleagues in the Journal of Sports Science. The first aim of this study was to develop a new running footwear comfort assessment tool taking into account these requirements. The second aim was to determine the reliability, discriminative ability, thresholds for measurement error, and important change for the newly developed tool. The authors offer a number of practical implications to this research; self-assessed running shoe comfort can be partially predicted by four explicit footwear items in order to optimise individual shoe choice, forefoot cushioning is more strongly related to comfort of running shoes than heel cushioning, and a difference in self-assessed comfort between shoes of more than 10 points on the RUN-CAT is deemed a meaningful change in comfort for the runner.
For more sports science check out our blog for in-depth case studies and industry updates. Also, be sure to sign up for our newsletter below so you are always up to date with the latest research.