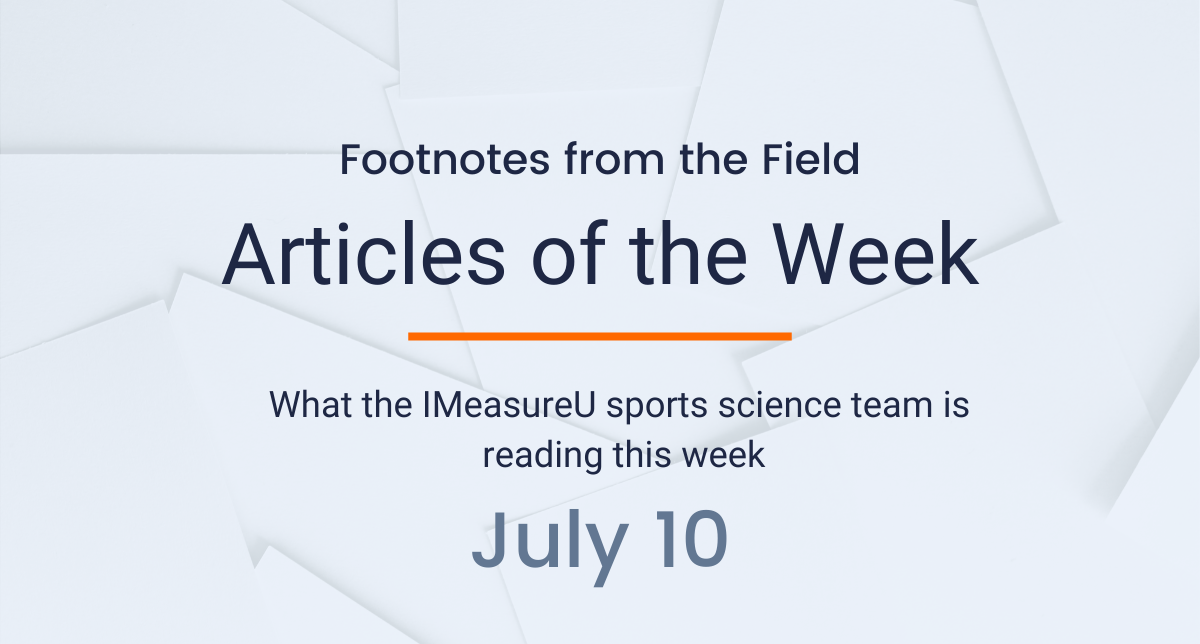 Here's what the sports science team at IMeasureU is reading this week:
The first article this week comes from Daniel Glassbrook and colleagues in the PeerJ open access journal. It is this article that Jaime Valadao and Dan Savin from the IMeasureU team reviewed in the video above, joined by the author himself. This technical note proposes a new technique to quantify external mechanical load, and lower-limb asymmetry during on-field team sport play using inertial measurement units. The authors concluded that a wearable located on the footwear to measure lower-limb load and asymmetry is feasible to use during rugby league match-play. The location of the sensor on the boot is suited to minimize injury risk occurring from impact to the sensor.
The second article in this week's list comes from Jonathon Weakley and colleagues in the International Journal of Sports Physiology and Performance. The authors investigated whether providing global positioning system feedback to players between bouts of small-sided games (SSGs) can alter locomotor, physiological, and perceptual responses. They concluded that verbal feedback did not alter locomotor, physiological, or perceptual responses in rugby players during SSGs. The authors suggested that it may be due to contextual factors (eg, opposition) or the type (ie, distance) or low frequency of feedback provided.
The final article comes from Alessandro Garofolini and colleagues in the Journal of Sports Sciences. The aim of this study was to structure the sequence of indirect and direct biofeedback to assess the merits of direct feedback. Results suggested that structured feedback was effective in increasing the range of input parameters that match the task goal, hence expanding the size of goal-relevant solutions, which may benefit running performance under changing environmental constraints.
For more sports science check out our blog for in-depth case studies and industry updates. Also, be sure to sign up for our newsletter below so you are always up to date with the latest research.